Step 1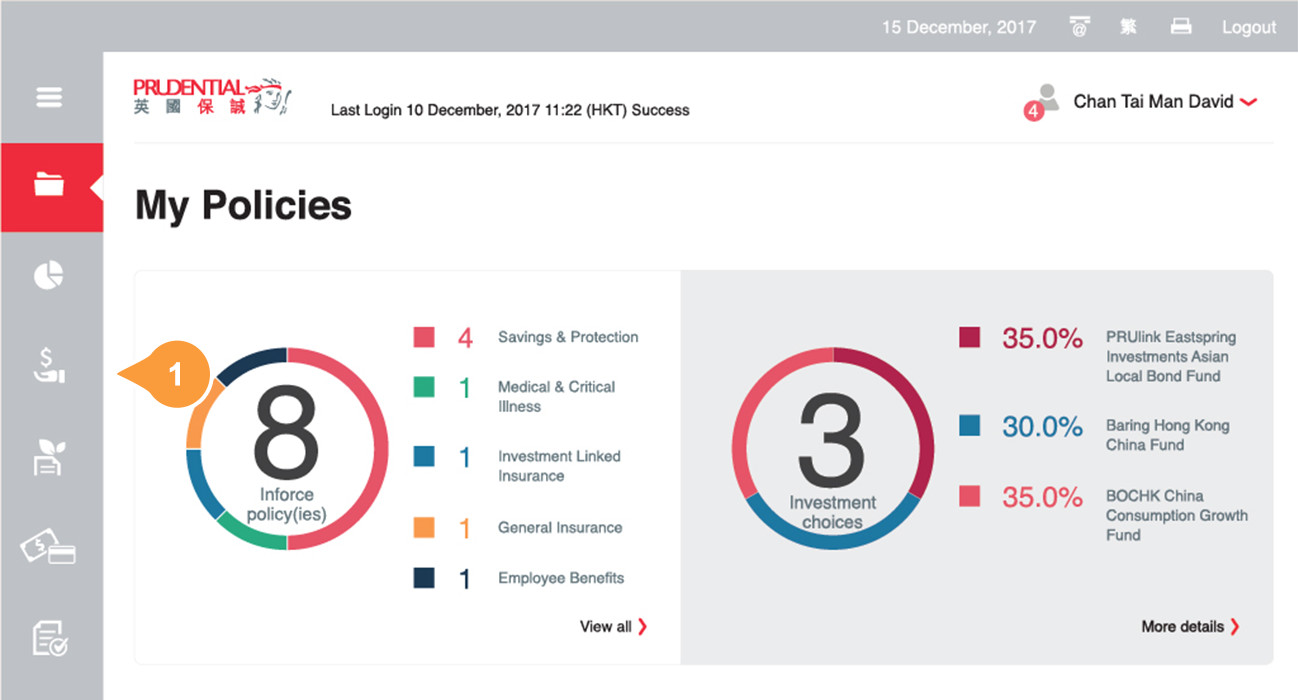 Step 2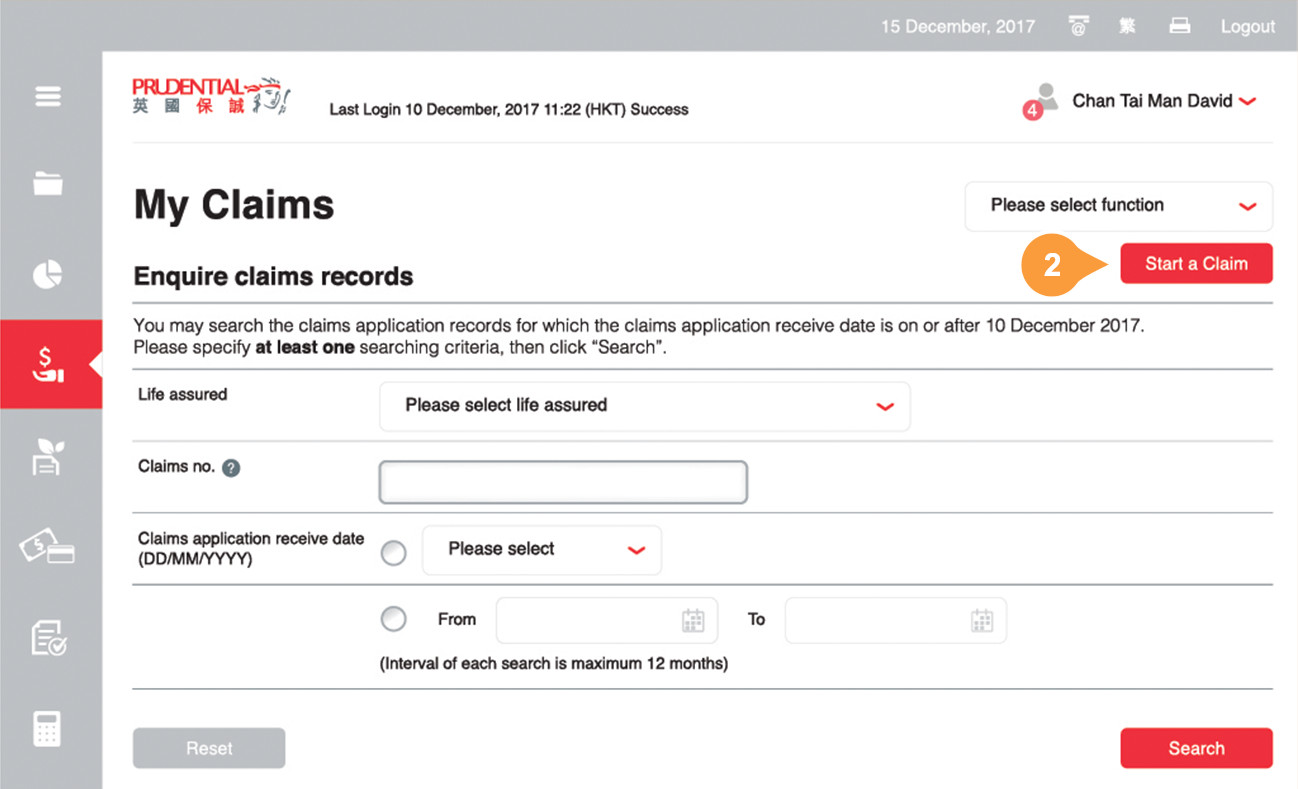 2.

Press "Start a Claim".

Step 3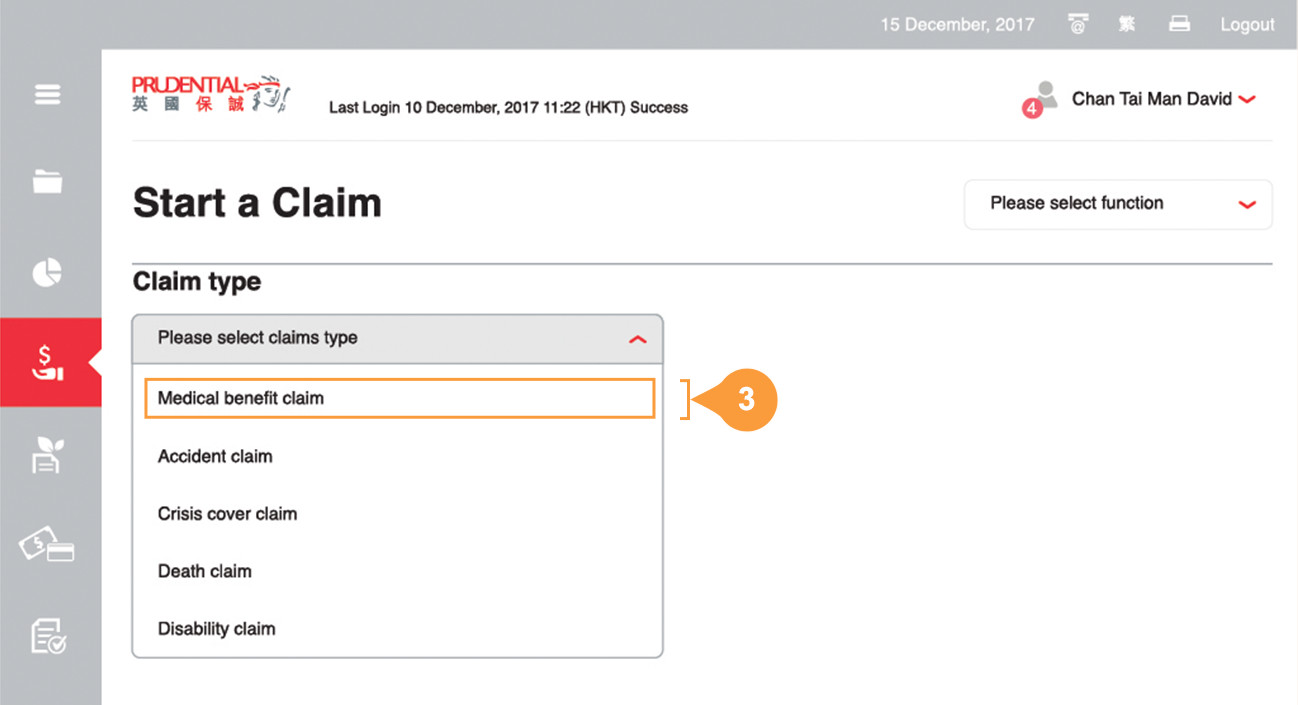 3.

Select "Medical benefit claims" from Claims Type.

Step 4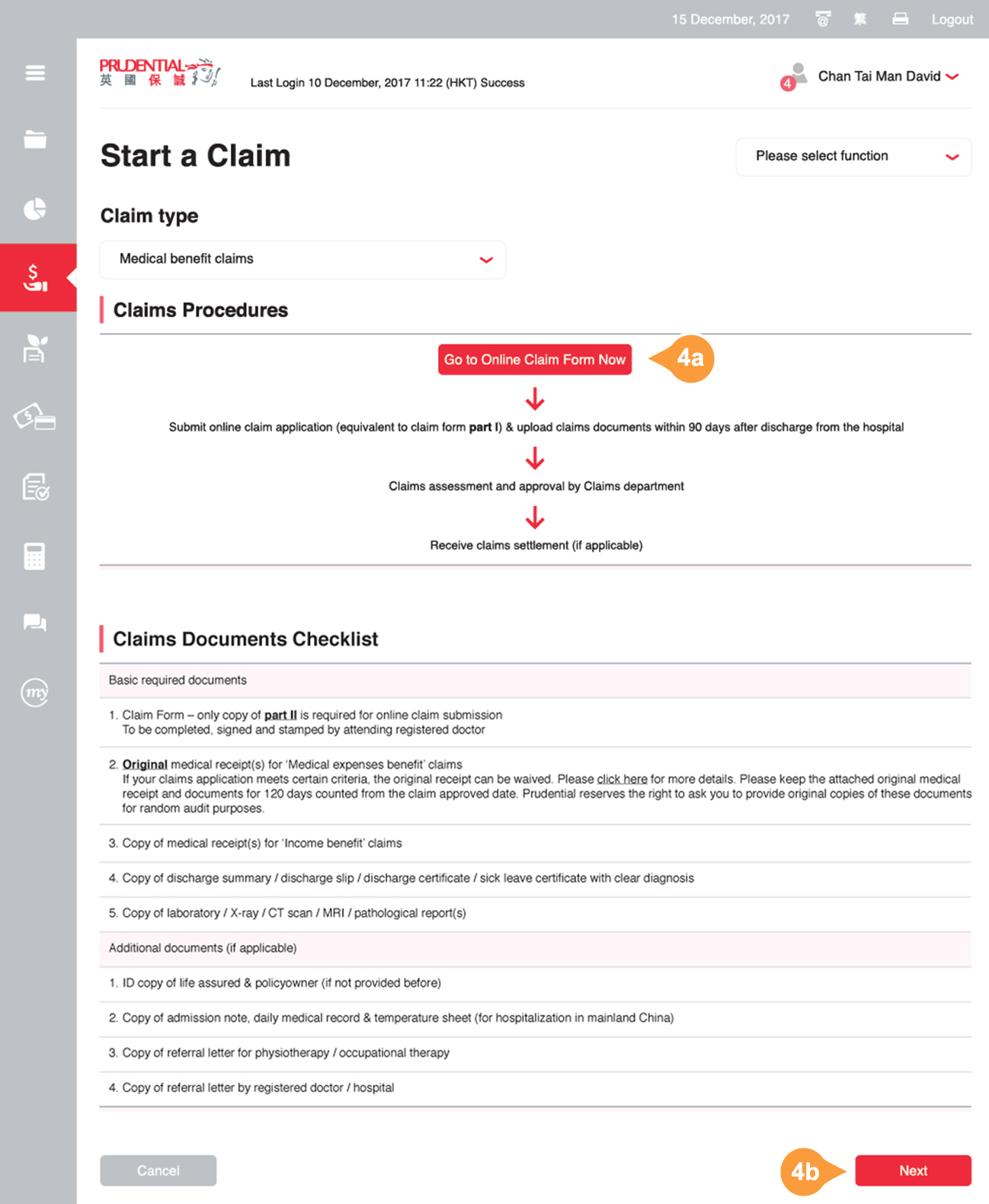 4a.

Click "Go to Online Claim Form Now" or
4b.

Review Claims Documents Checklist then click "Next" to enter the online form.

Step 5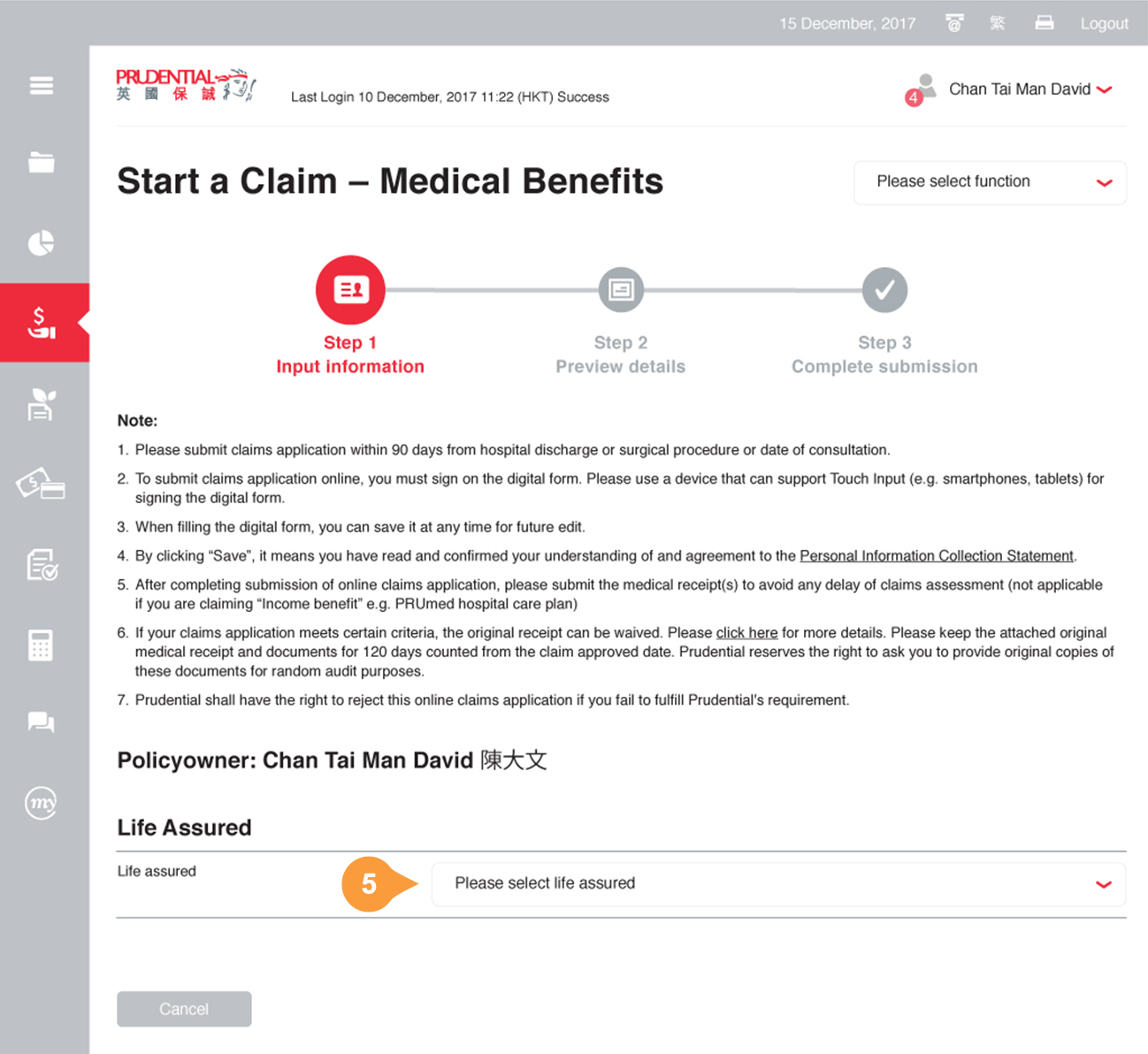 Start a Claim – Medical Benefits Claims.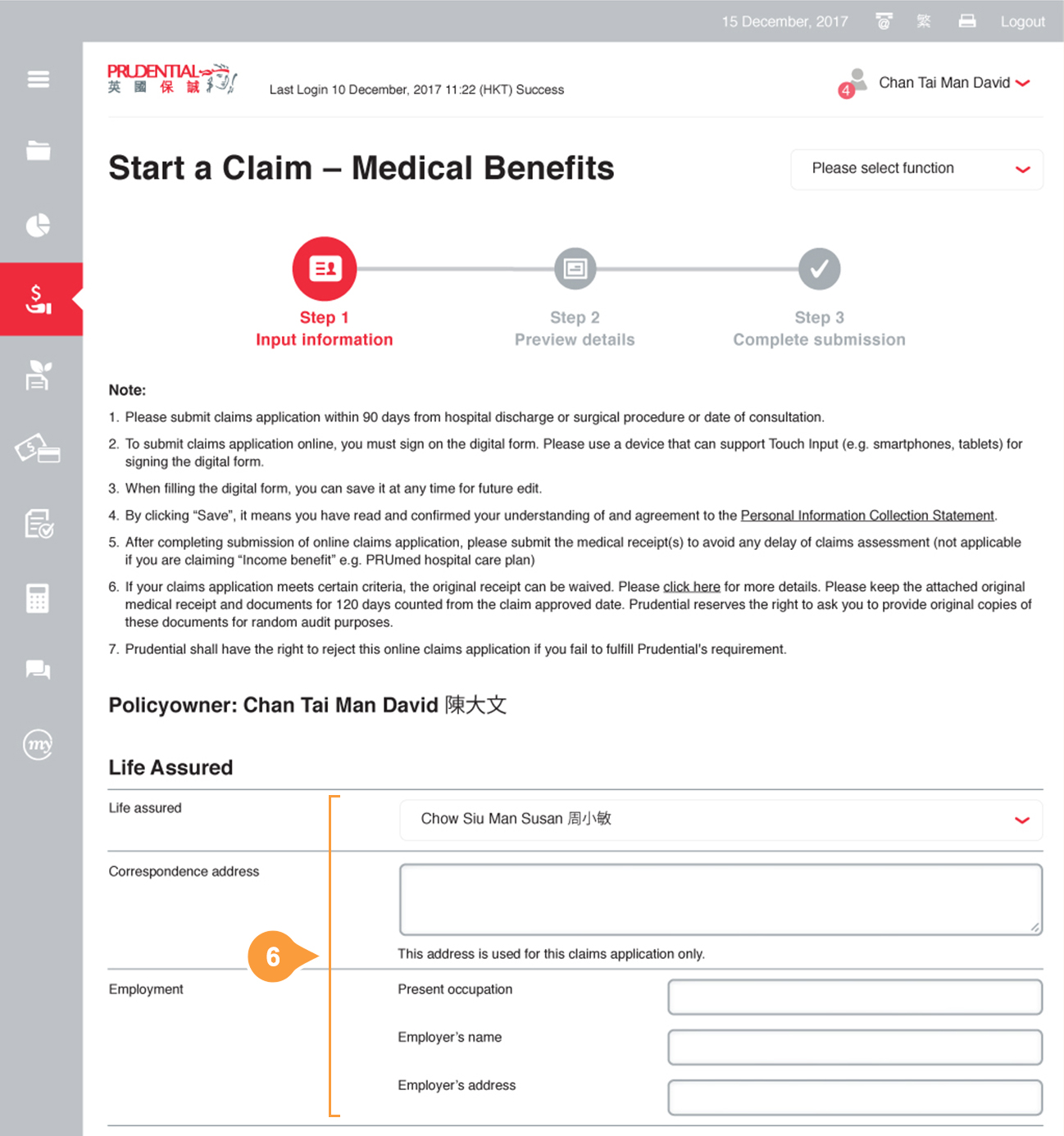 6.

Enter personal details of life assured.

Type of Claims.
7.

Select Benefit to Claims.
Only eligible benefits applicable to the chosen life assured will be listed for selection.
8.

Download "Claim form part II" if you have not provided it to your attending doctor.

Step 6

9.

Provide Claim Sequence.

"New claim" refers to a brand new claim.
"Further claim" means you can further claim by submitting additional receipts for a previously submitted medical benefit claims.

Step 7

10.

For claim due to accident, please enter

Date, location, details of the accident and if the case has been reported to police.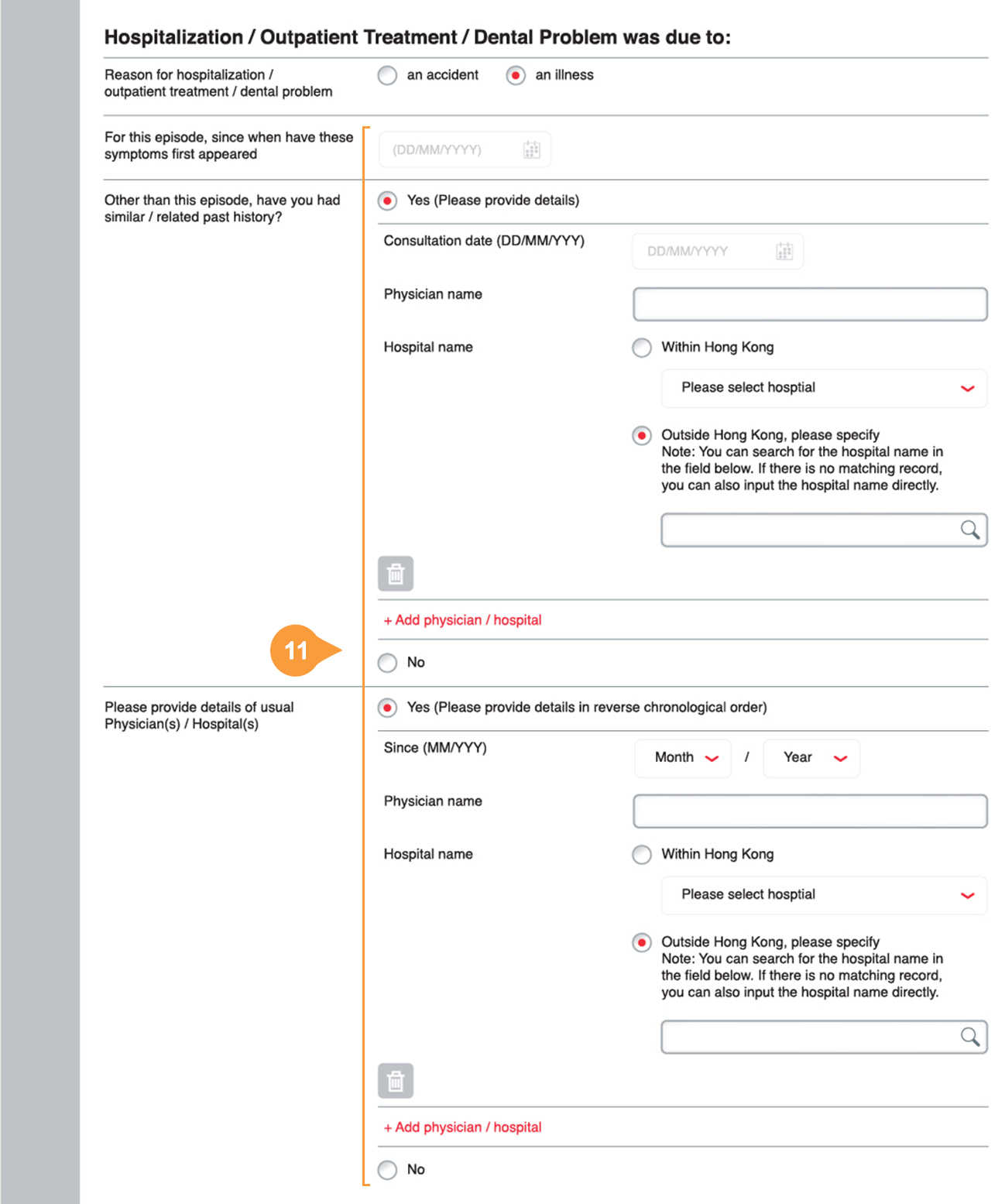 11.

For claim due to illness, please enter

Date of when these symptoms first appeared
Similar/related symptoms in the past (If any) and
Details of usual Physician(s)/ Hospital(s) (If any)

Step 8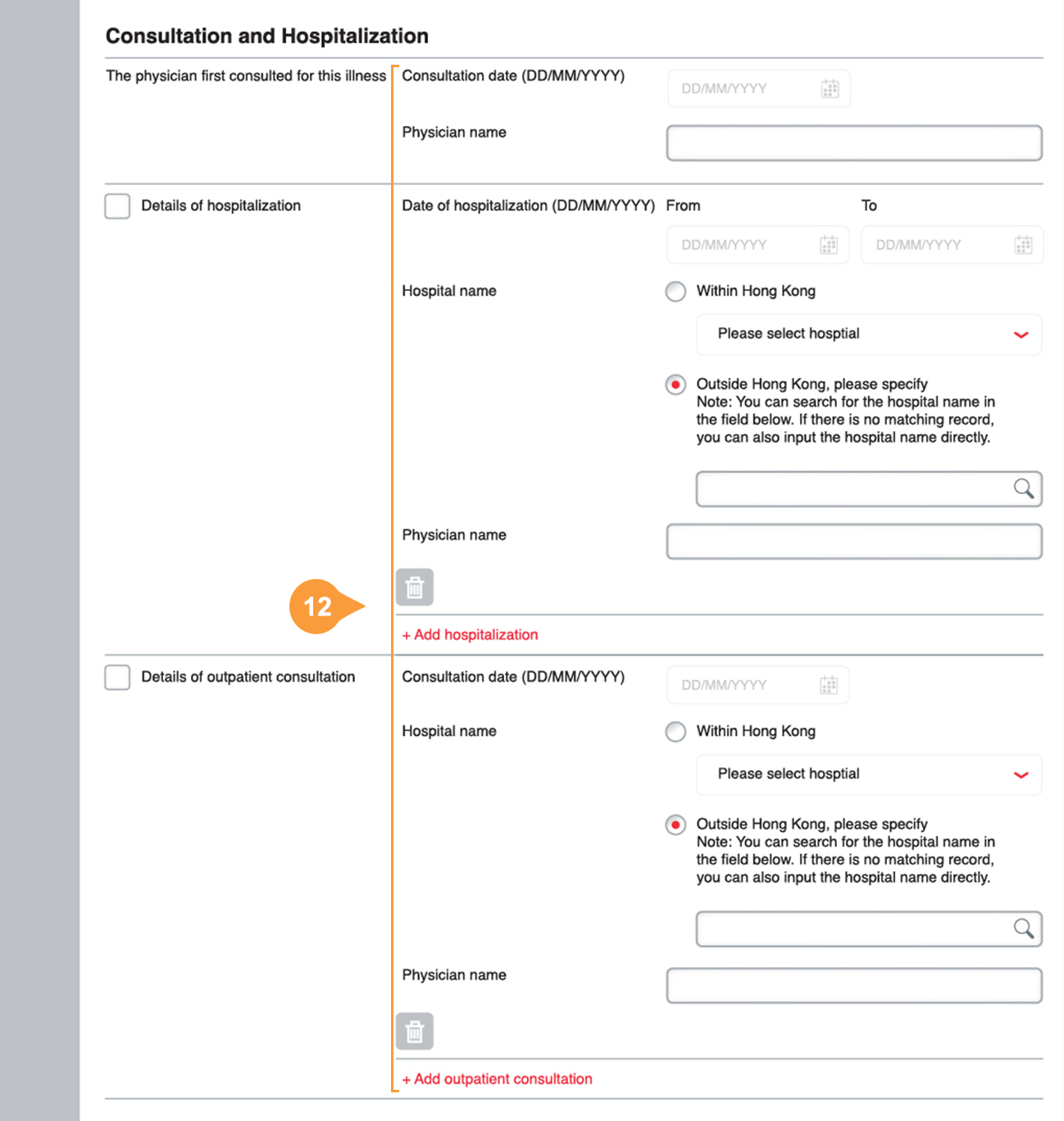 12.

Provide Consultation and Hospitalization details.

The physician first consulted for this illness
Details of hospitalization
Details of outpatient consultation

Step 9

13.

Select if you apply for compensation from another insurer(s) / organization(s) for the same event.

Step 10

14.

Select Method of Claims Payment, including

By HKD cheque drawn in Hong Kong, please select cheque collection method
By direct credit to the Premium Deposit Account of the respective policies being claimed. This option is only applicable to inforce policy with premium payment.
By direct credit to your bank account. The maximum claim payment limit is HKD100,000.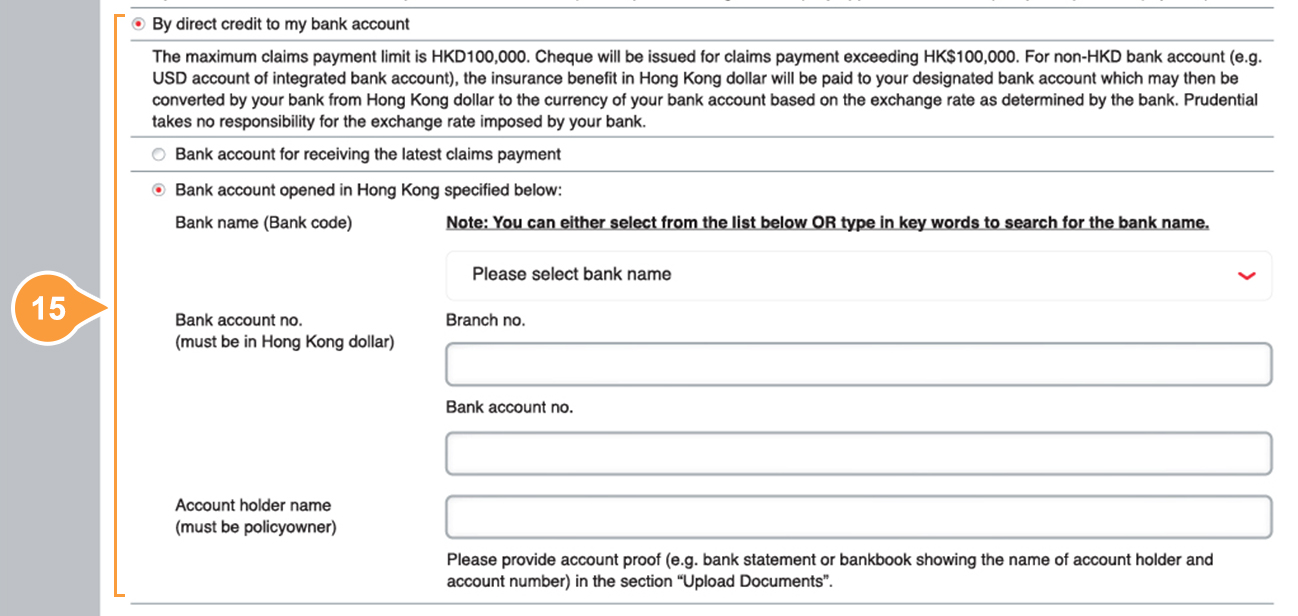 15.

To register new bank account opened in Hong Kong, please provide account proof in the section "Upload Documents".

It is required to provide 3-digit branch number.
Account holder name must be the policyowner.
Remarks: PRUmyhealth Prestige Medical Plan is only valid for HKD cheque drawn in Hong Kong.

Step 11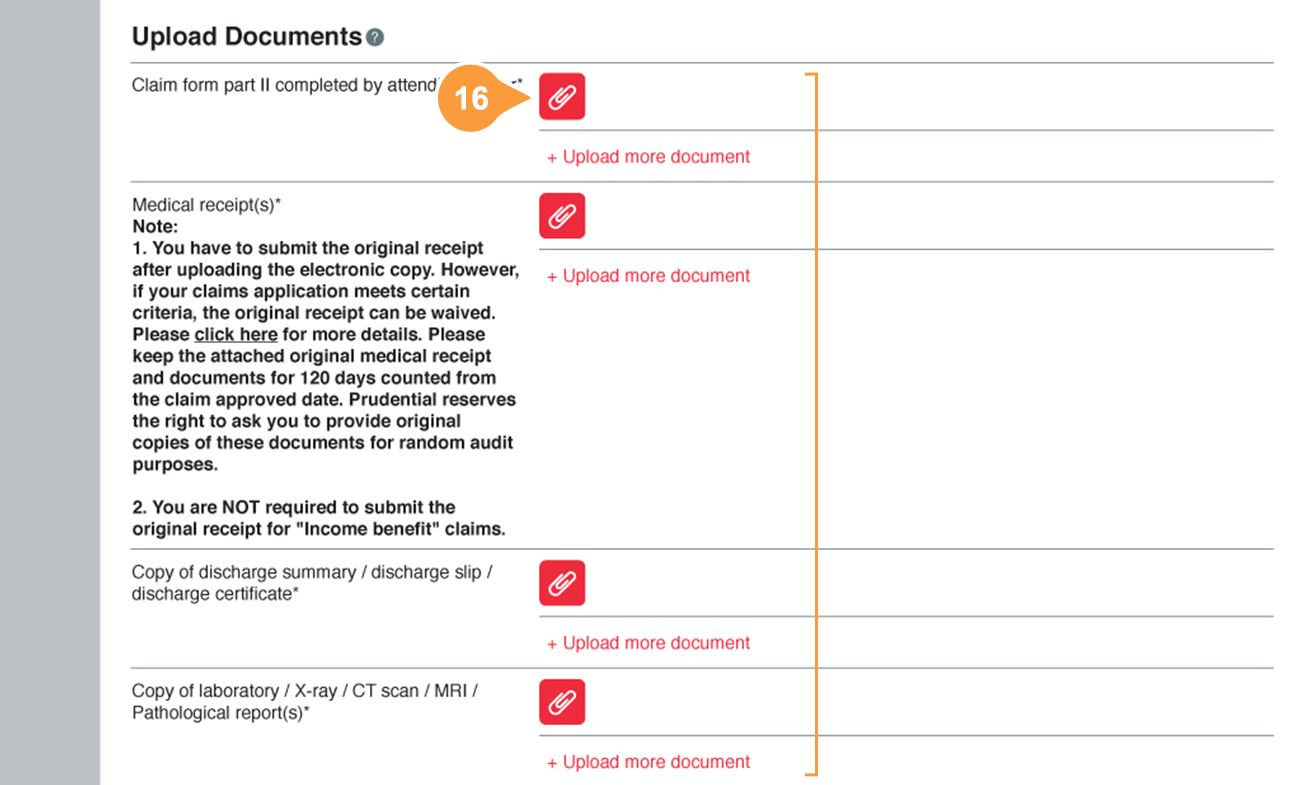 16.

Upload relevant documents according to the claim application.

Click to upload document.
Use of Smartphone/Tablet devices to take photo or select the documents from photo album and upload directly.
File formats have to be JPEG , PDF or TIFF, file size cannot exceed 5MB for each file.

17.

Click "Next" to preview details or "Save" the online form for editing in future.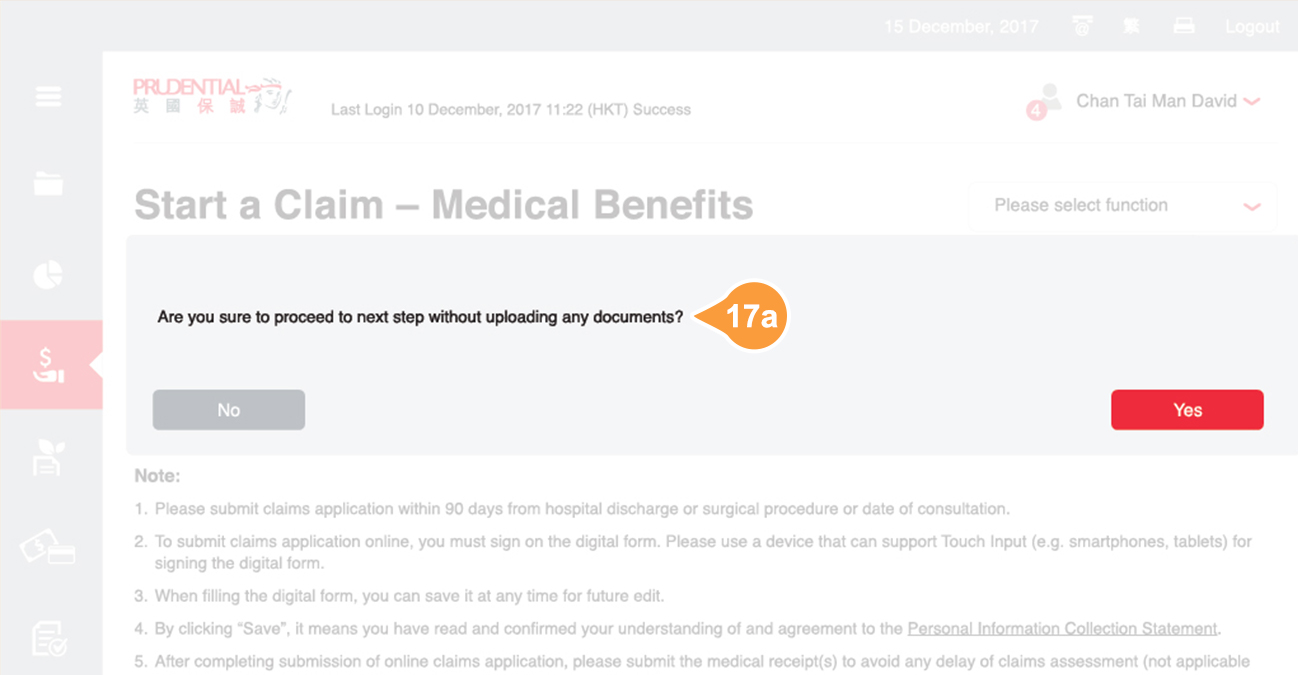 17a.

A pop up screen will ask for your confirmation to proceed to the next step without uploading any documents.

Step 12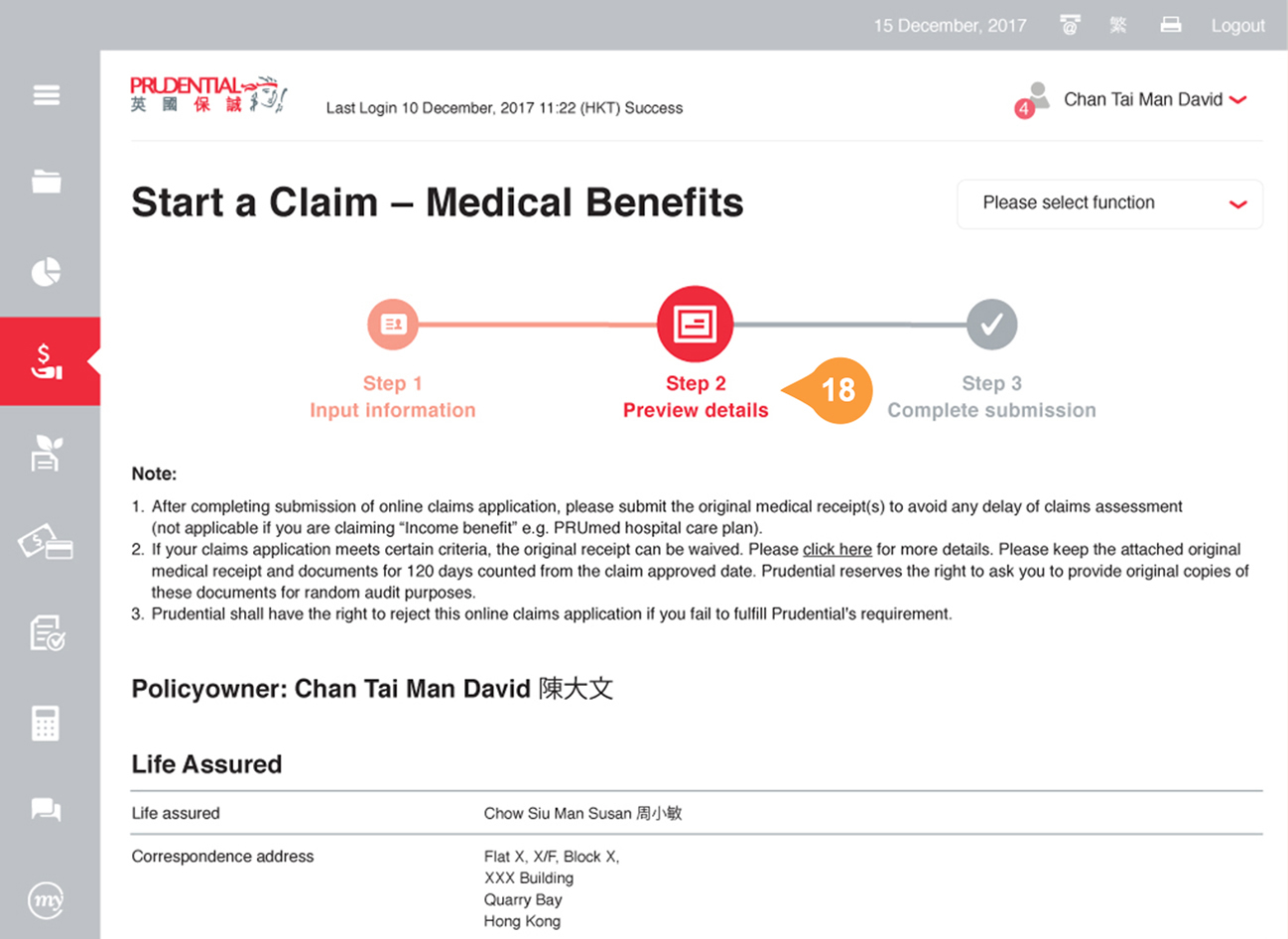 18.

Preview the accuracy of the information provided.

Step 13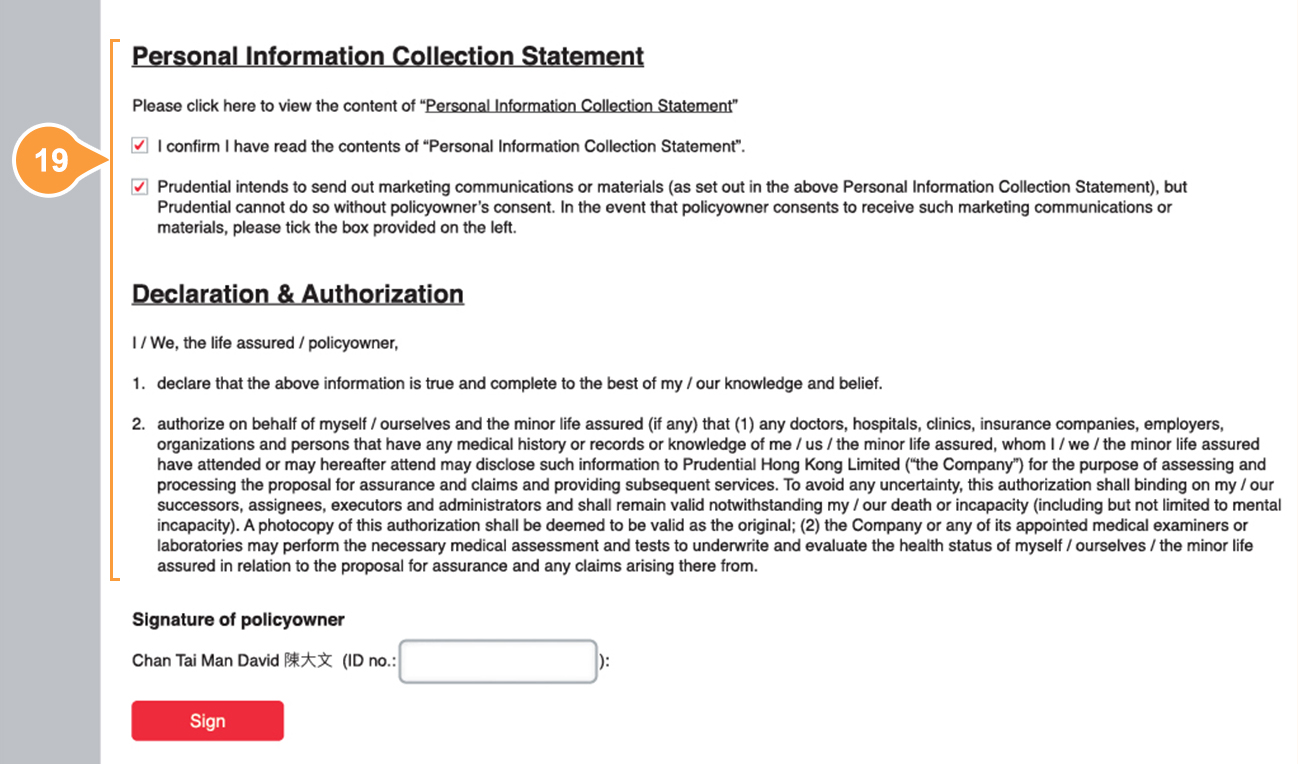 19.

Declare you have read and agreed with the content of "Personal Information Collection Statement" and pay attention in the section of Declaration and Authorization.

Step 14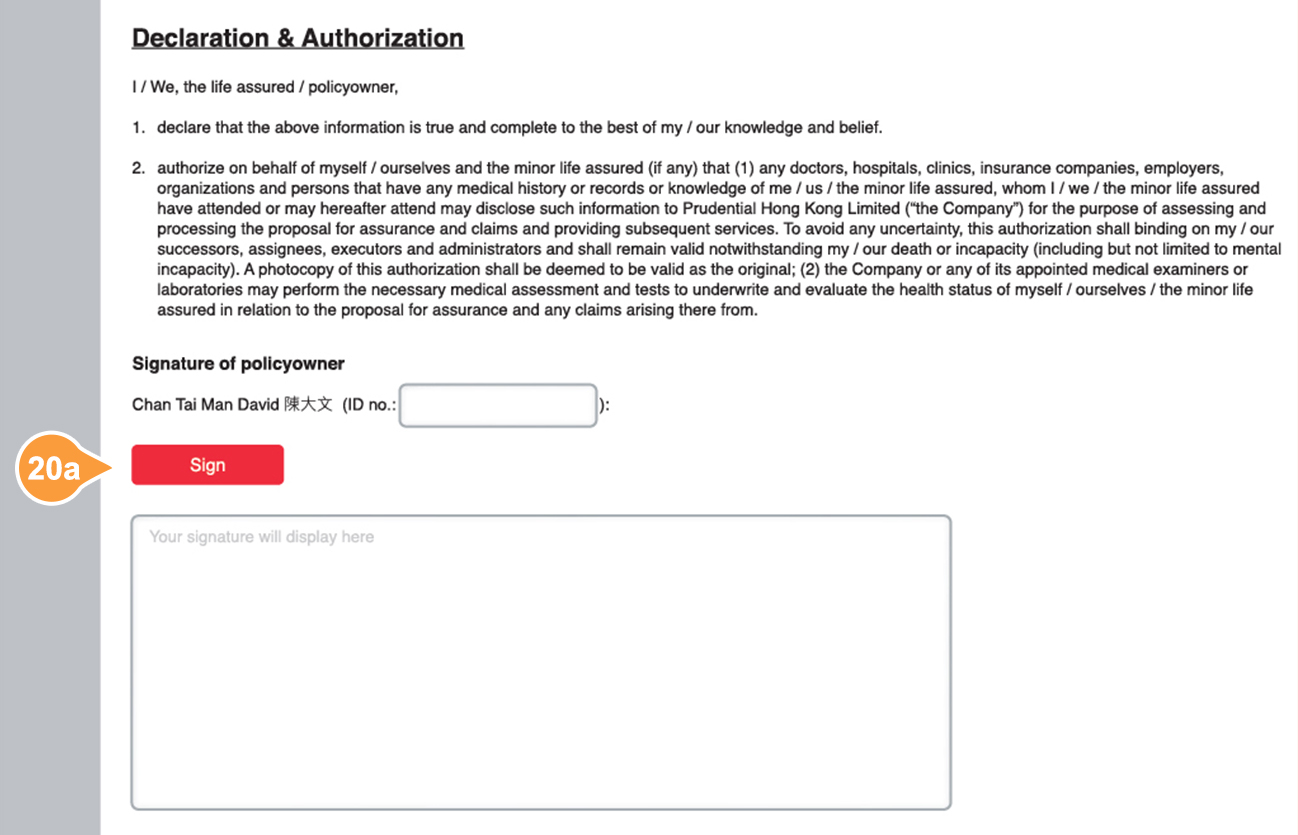 Sign for declaration and authorization.
Please note that the signing on online form is only applicable on device that can support Touch Input (e.g. smartphones, tablets etc.).
20a.

Click "Sign", a new browser will be opened. You can sign in the blank box.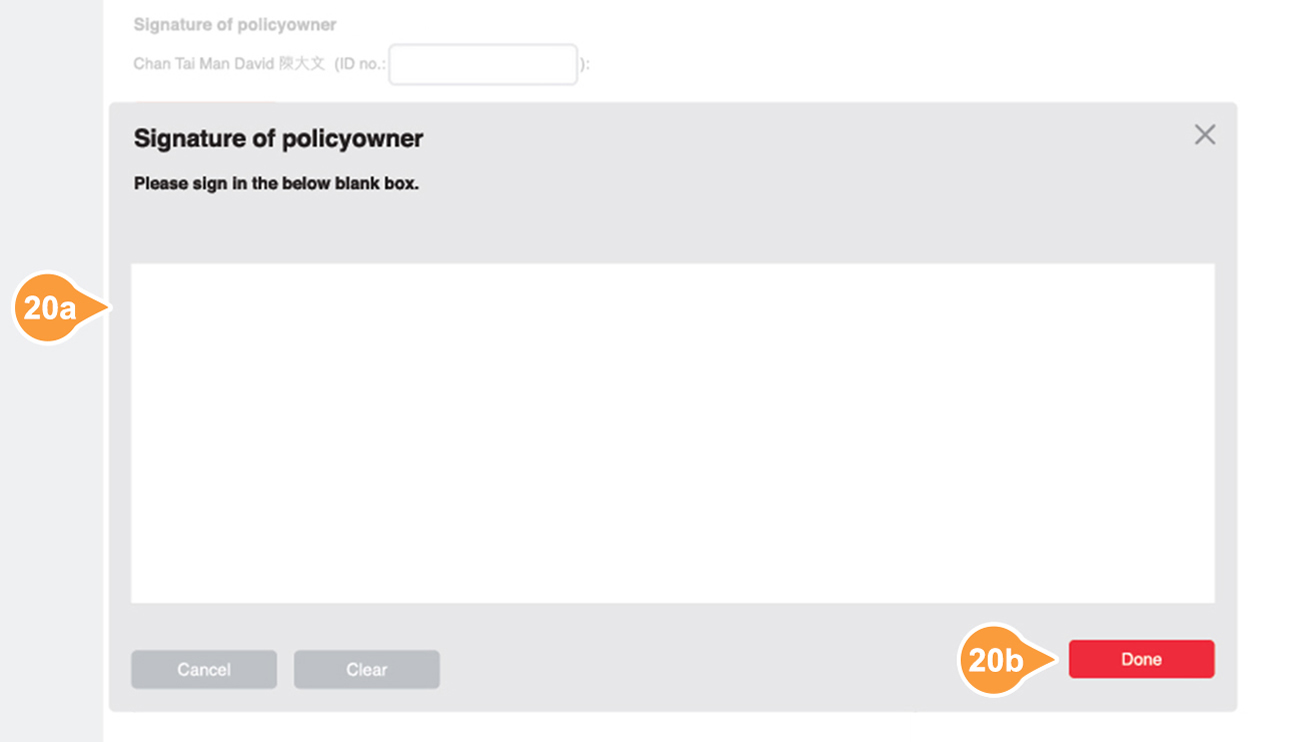 20b.

Click "Done" and return to the form, your signature will be shown on the online form.
Remarks: Online form requires signature of the life assured, if the life assured is not the policyowner and the age next birthday of the life assured is above 18.

Step 15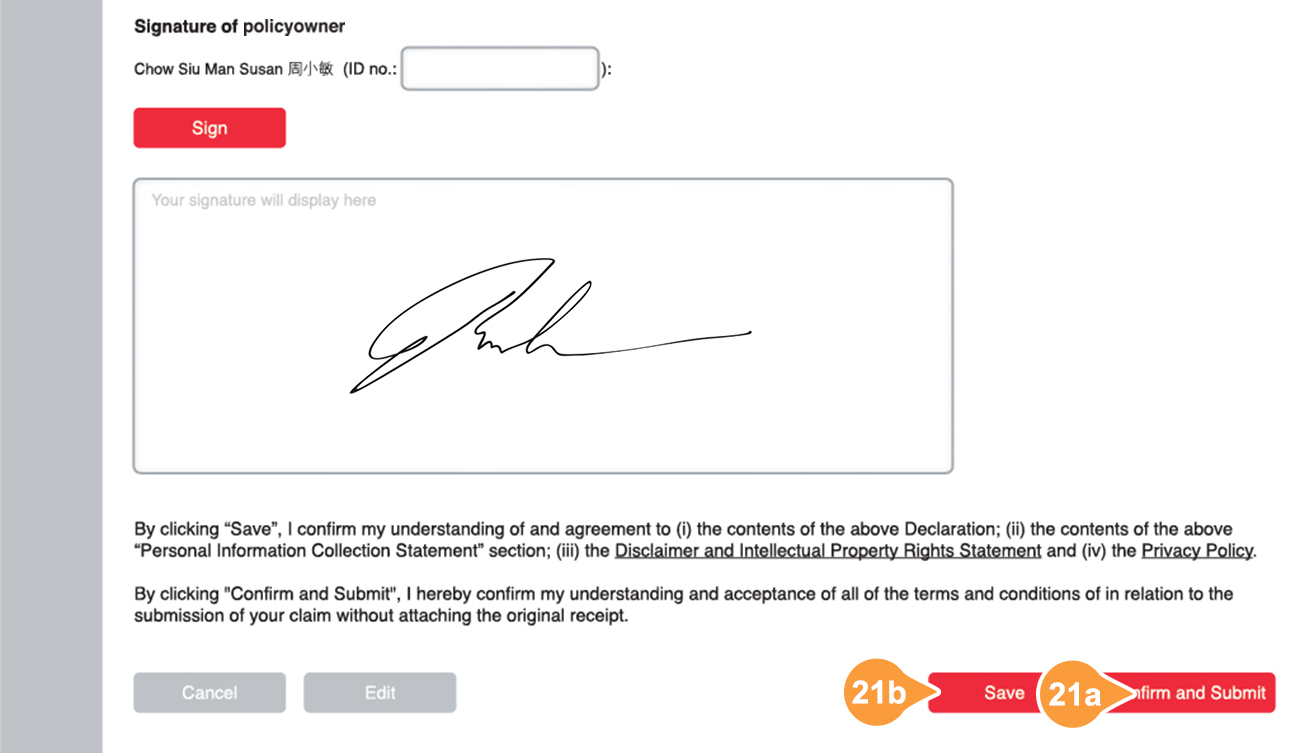 21a.

Click "Confirm and submit" the online form
21b.

If you need to postpone the claim application, you can click "Save" to store the input details at any time for future edit.

Step 16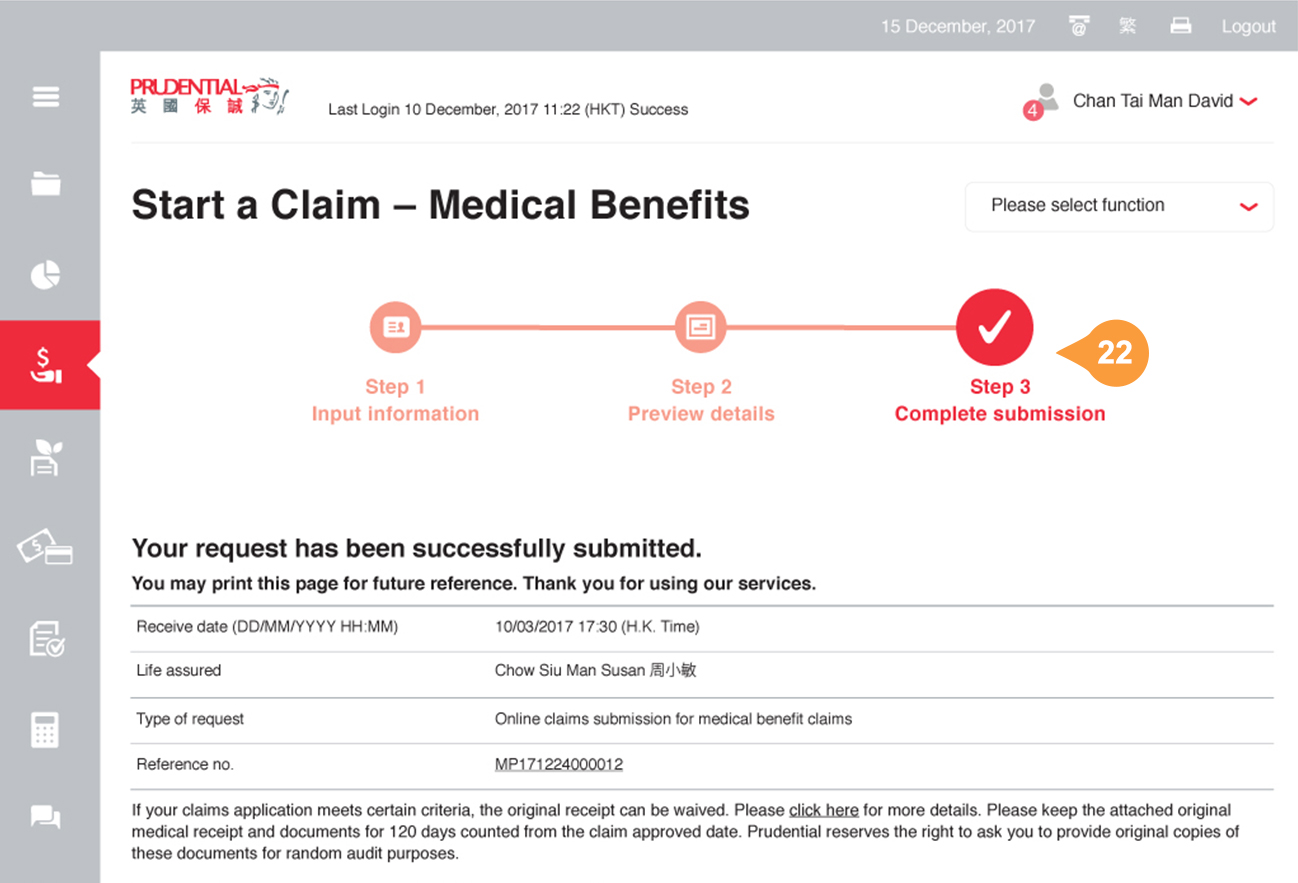 22.

You have completed the submission successfully.
Remarks: To facilitate the claims approval, please send the original Medical Receipt(s) and Statement(s) of Charges of the corresponding claim case (Original receipt can be waived for some cases, please click here for more details). We will send a SMS notification to you when your claim is approved or requested for additional documents.
Mailing address:
P.O. Box No. 28058, Gloucester Road Post Office, Hong Kong