News Archive
Prudential steps up scope of anti-pandemic support services to fight COVID-19
alongside Hong Kong people
• Launches upgraded "Virtual Onboarding" service
to cover all types of life insurance products
• Donates 30,000 free rapid antigen test kits
to frontline cleaners and elementary workers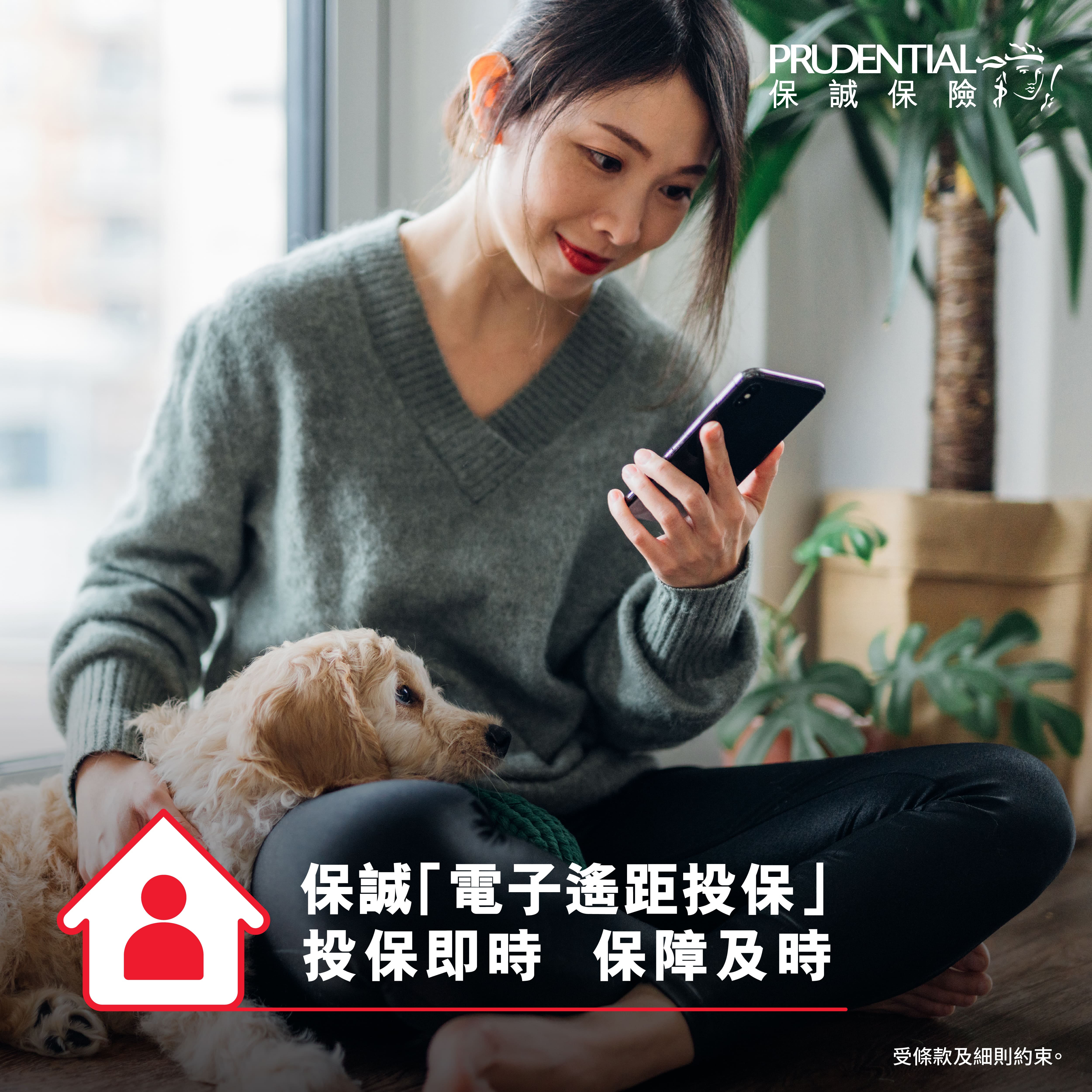 (17 March 2022, Hong Kong) Against the backdrop of the fifth wave of COVID-19 in Hong Kong, Prudential Hong Kong Limited ('Prudential') is expanding its insurtech service offerings to support Hong Kong citizens in their fight against the pandemic by launching upgraded "Virtual Onboarding" service to help them take out insurance plans remotely during the recent stay-at-home period.
The applicable products cover all types of life insurance including investment-linked assurance schemes ('ILAS'). It follows the recent announcement of the Insurance Authority ('IA') on further measures to facilitate purchase of all life insurance products online and minimise the infection risk.
In addition, the Prudence Foundation in March donated 30,000 rapid antigen test kits to Oxfam Hong Kong and The Hong Kong Federation of Youth Groups Cheung Wah Center for free distribution to frontline cleaners, elementary workers and their families.
"Hong Kong is facing a severe COVID-19 situation with a rapid surge in the number of confirmed cases every day. At Prudential, we understand the pain points of our society, so we are glad to join forces with the community to help alleviate some of the difficulties with our latest relief measures, including the virtual onboarding services and the timely donation of the free test kits. By rolling out these relief measures and working together to reduce the risk of virus transmission, we live our 'We DO' spirit to help safeguard the wellbeing of our local communities and fight alongside them against the pandemic," said Derek Yung, Chief Executive Officer of Prudential Hong Kong.
Details of the relief measures:
1. One-stop "Virtual Onboarding" service for secure life insurance applications with a peace of mind at home
Since its launch in February 2020, the "non-face-to-face submission" channel1 gained popularity among customers and financial consultants alike as an alternative and efficient way to apply for insurance products, particularly with face-to-face interaction discouraged during the pandemic. Medical and critical illness protection are most popular among all the e-applications, both accounting for more than 40%.
Prudential this month upgraded its "Virtual Onboarding" service to enable customers in Hong Kong to take out any of its life insurance plans, including ILAS, through a dedicated mobile app with multiple user-friendly features. With the remote real-time assistance of our financial consultants to go through the entire application process, customers can now do this in the comfort of their homes. This reinforces recent efforts2 by the IA to facilitate virtual onboarding as a means to help curb risk of infection during the sales process.
Three major features of Virtual Onboarding mobile app include:
Feature 1: Screen sharing and co-browsing function to allow customers and financial consultants to remotely and simultaneously complete the application process, including financial needs analysis, insurance proposals and product details illustration, application form submission, document upload, electronic signature and instant verification, as well as settling the first premium payment through credit card or Faster Payment System (FPS). Getting it done within one app means there is no need to switch between browsers and other tools.

Feature 2: "GPS Location Checking" feature to instantly and conveniently verify the location of customers for their remote application eligibility.

Feature 3: Full audio and video recording to validate the application (with customer permission).
2. Distribution of 30,000 free rapid antigen test kits to relieve pressure of the underprivileged / lower-income groups
Frontline workers continue to work diligently in multiple environments that are exposing them to greater risk of COVID-19 infection. As they serve the needs of community, they often need to equip themselves with medical and testing supplies at their own expense, adding to their financial burden. With support from the Prudence Foundation, Prudential is collaborating with Oxfam Hong Kong and The Hong Kong Federation of Youth Groups Cheung Wah Center to donate 30,000 rapid antigen test kits to fulfill the pressing need for the self-testing of frontline cleaners, elementary workers and their families. Distribution of free test kits in Kowloon East, Kowloon West, the New Territories North and Hong Kong Island commenced in March 2022.
1 Prudential launched "non face-to-face submission" channel in February 2020 https://www.prudential.com.hk/en/all-news/prudential-launches-non-face-to-face-distribution-channel-for-qualifying-deferred-annuity-policy-and-voluntary-health-insurance-scheme-plans-enabling-customers-to-submit-insurance-applications-without-leaving-home-amid-current-market-condition./index.html
2 Insurance Authority introduces further measures to facilitate purchase of all life insurance products online: https://www.ia.org.hk/en/infocenter/press_releases/20220304.html
This document is for distribution in Hong Kong only. It is not an offer to sell or solicitation to buy or provide any insurance product outside Hong Kong. Prudential does not offer or sell any insurance product in any jurisdictions outside Hong Kong where such offering or sale of the insurance product is illegal under the laws of such jurisdictions.
– Ends –
About Prudential Hong Kong Limited
Prudential has been serving the people of Hong Kong since 1964. Through Prudential Hong Kong Limited and Prudential General Insurance Hong Kong Limited, we provide a range of financial planning services and products including individual life insurance, investment-linked insurance, retirement solutions, health and medical protection, general insurance, and employee benefits.
About Prudential plc
Prudential plc provides life and health insurance and asset management in Asia and Africa. The business helps people get the most out of life, by making healthcare affordable and accessible and by promoting financial inclusion. Prudential protects people's wealth, helps them grow their assets, and empowers them to save for their goals. The business has more than 18 million life customers and is listed on stock exchanges in London (PRU), Hong Kong (2378), Singapore (K6S) and New York (PUK). Prudential is not affiliated in any manner with Prudential Financial, Inc. a company whose principal place of business is in the United States of America, nor with The Prudential Assurance Company Limited, a subsidiary of M&G plc, a company incorporated in the United Kingdom.