News Archive
Seven out of 10 Hong Kongers are concerned about their family's potential medical expenses, Prudential Hong Kong's Health & Protection study shows
Respondents show lack of awareness around health and protection needs in three key phases of the health journey – "prevention", "postponement" and "protection"
(25 March 2019 – Hong Kong) – Prudential Hong Kong Limited ("Prudential"), a market leader in the health and protection (H&P) space, today released the findings of its inaugural H&P study. The study reveals that while 73% of respondents are "concerned" or "very concerned" about their family's medical expenses, 43% of them do not have any insurance coverage for their family members and only 30% have full visibility of their loved ones' medical coverage.
"A rapidly ageing but under-insured population and escalating medical costs have created a growing demand for healthcare and medical insurance in Hong Kong. The city also has the second highest per-capita health-protection gap in Asia[1]. Through our H&P study, we want to encourage the people in Hong Kong to take a more holistic approach in evaluating and planning for their family's health and protection needs," said Derek Yung, Chief Executive Officer of Prudential.
The H&P study sought to gauge the awareness and protection needs of Hong Kongers around three key phases of their health journey: "prevention", "postponement" and "protection''.
Awareness gap in "Prevention"
Adopting healthy dietary habits helps lower the risks of health issues such as obesity and high blood pressure, which are often the major causes of chronic diseases. The H&P study shows that Hong Kong households lack awareness of dietary, health and lifestyle practices that could help prevent health threats and address the particular health needs of family members.
Spouse / partner: 42% are not highly aware of their spouse/partner's dietary habits, while 58% of respondents are not very confident that their spouse/ partners are adopting healthy dietary habits.
Children: 44% of surveyed parents are not highly aware of their children's dietary habits, while more than half of them (58%) are not very confident that their children are adopting healthy dietary habits. Nearly half (46%) of the surveyed parents are not highly aware of their children's physical or wellness conditions, such as whether they are overweight or suffering from malnutrition which may lead to more serious health issues.
Parents: 62% of respondents are not highly aware of the dietary habits of their parents, while 71% are not very confident that their parents are adopting healthy diets.
Awareness gap in "Postponement"
The H&P study also indicates that Hong Kongers have inadequate awareness of their family members' current health information such as their body check-up results, which are useful indicators of health conditions and can help detect the risks of potential diseases at an early stage. This awareness gap could also hinder them from taking the necessary action to seek the best treatment to defer illnesses or support their family members if adverse health events strike.
Around one-third of respondents do not proactively research and share health-related information with their family members in support of each other's medical needs, e.g. information regarding medical consultations and medical insurance coverage.
Respondents reported a low level of full awareness around the medical check-up results of their family members, with 56% noting their lack of full awareness around their spouse / partner, 47% for their children and 71% for their parents.
Awareness gap in "Protection"
73% of respondents are concerned about whether their families' current medical protection levels are adequate to protect them against rising medical expenses in the near and long term. Yet at the same time, there are substantial gaps in their awareness around their medical insurance protection coverage and needs.
Over half of the respondents (57%) are currently "concerned" or "very concerned" about their potential medical expenses, while over 80% of them foresee increasing concerns when they retire.
Yet, almost half (47%) of the respondents have no private hospital reimbursement coverage, among which 28% only have group hospital coverage (company insurance provided by employers) and 19% do not even have any coverage (private or group).
Among those with no hospital reimbursement coverage (group or private), over 60% have reserved less than HK$100,000 for an emergency fund.
The protection and awareness gaps are largely driven by a lack of time and resources - 76% of Hong Kongers cite the process of evaluating and comparing medical insurance coverage and plans for their families as "time-consuming", while 65% of them think that the cost of having medical coverage is a heavy financial burden for the whole family.
"As a leading insurer and a trusted protection partner in Hong Kong, we are well positioned to help bridge these gaps by providing a wide range of affordable, comprehensive and innovative H&P products and services. As an example, our wellness solution 'myDNA Pro' helps customers identify and reduce '3 Highs' – high blood pressure, high cholesterol and type 2 diabetes - as well as establish healthy lifestyle habits. Prudential is also committed to providing seamless services to enhance customer experience by leveraging our technology and digital capabilities, which efficiently reduces the time and hassle in settling insurance claims. With our diversified H&P portfolio and innovative solutions, we support customers' evolving needs and empower them to 'prevent', 'postpone' and 'protect' along their health journey," added Yung.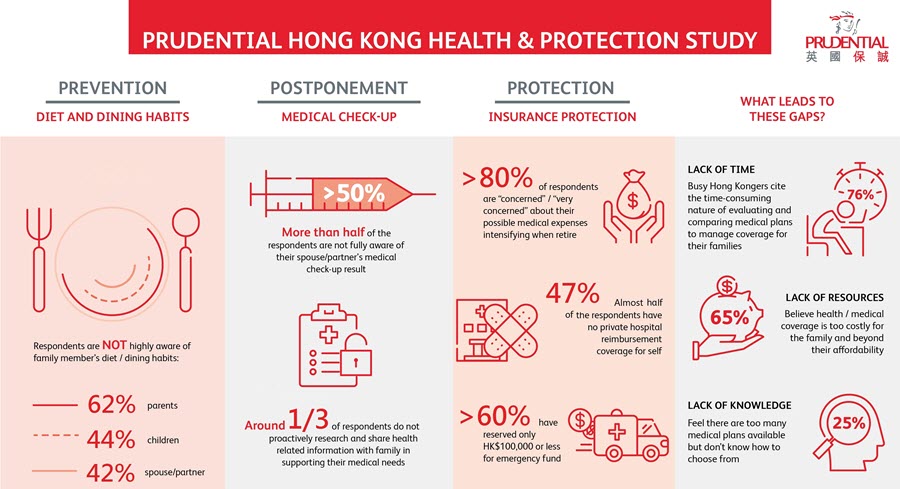 [1] Swiss Re Institute. Asia's Health Protection Gap: Insights for Building Greater Resilience. 2018