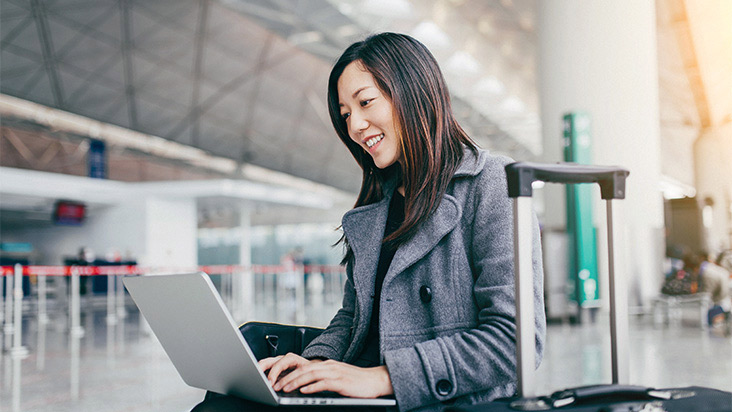 Secure login
We provide a secure environment to manage your policy because your online security matters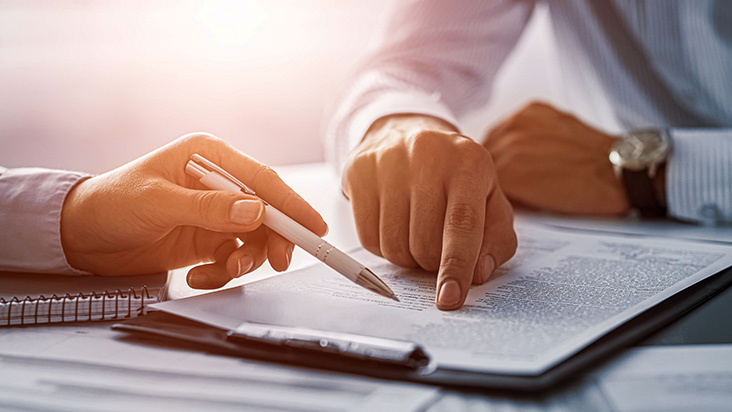 Policy change requests
Manage your policy change requests easily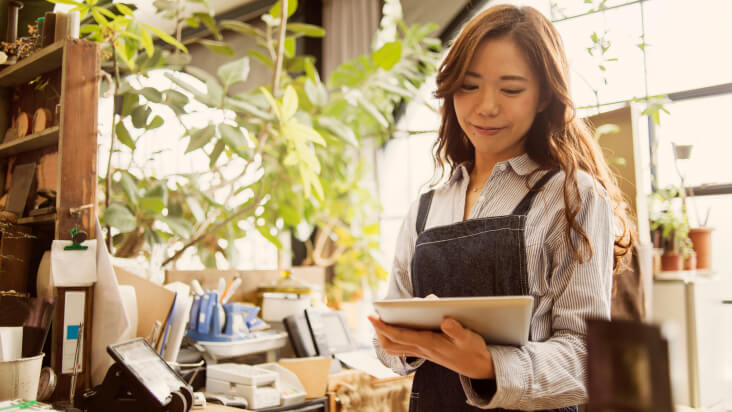 eStatements, eAdvices & Letters
Go green and switch to paperless eStatements and ePolicy contracts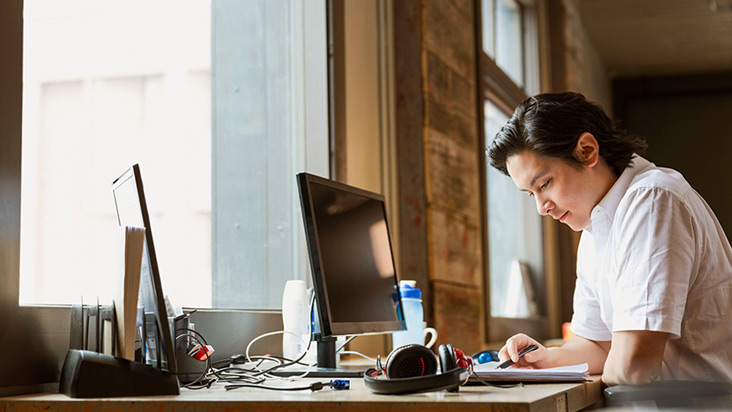 eClaims
Submit claims and check for updates on the go via myPrudential
Your online self-service

portal


myPrudential gives you the flexibility to do more. Discover their functions and features.


Log in now
Explore policy details
View coverage details and policy value
View eStatements, eAdvices & Letters
Make changes to your policy
Update address and residential phone number (Demo)
Change payment mode (yearly/ half-yearly/ quarterly/ monthly payment) (

Demo

)
Change payment method (direct billing/ autopay) (

Demo

)
Change dividend allocation
Change dividend payout option
Change benefit protection option
Appoint beneficiary (Demo)
Manage policy services
Confirm receipt of policy contract
Apply for policy loan (

Demo

)
Make a claim and view status
View / download e-medical card
Keep track of your wealth
Switch existing investment choice (

Demo

)
Change premium allocation (Demo)
Set up target price alerts
How to log in
to online platforms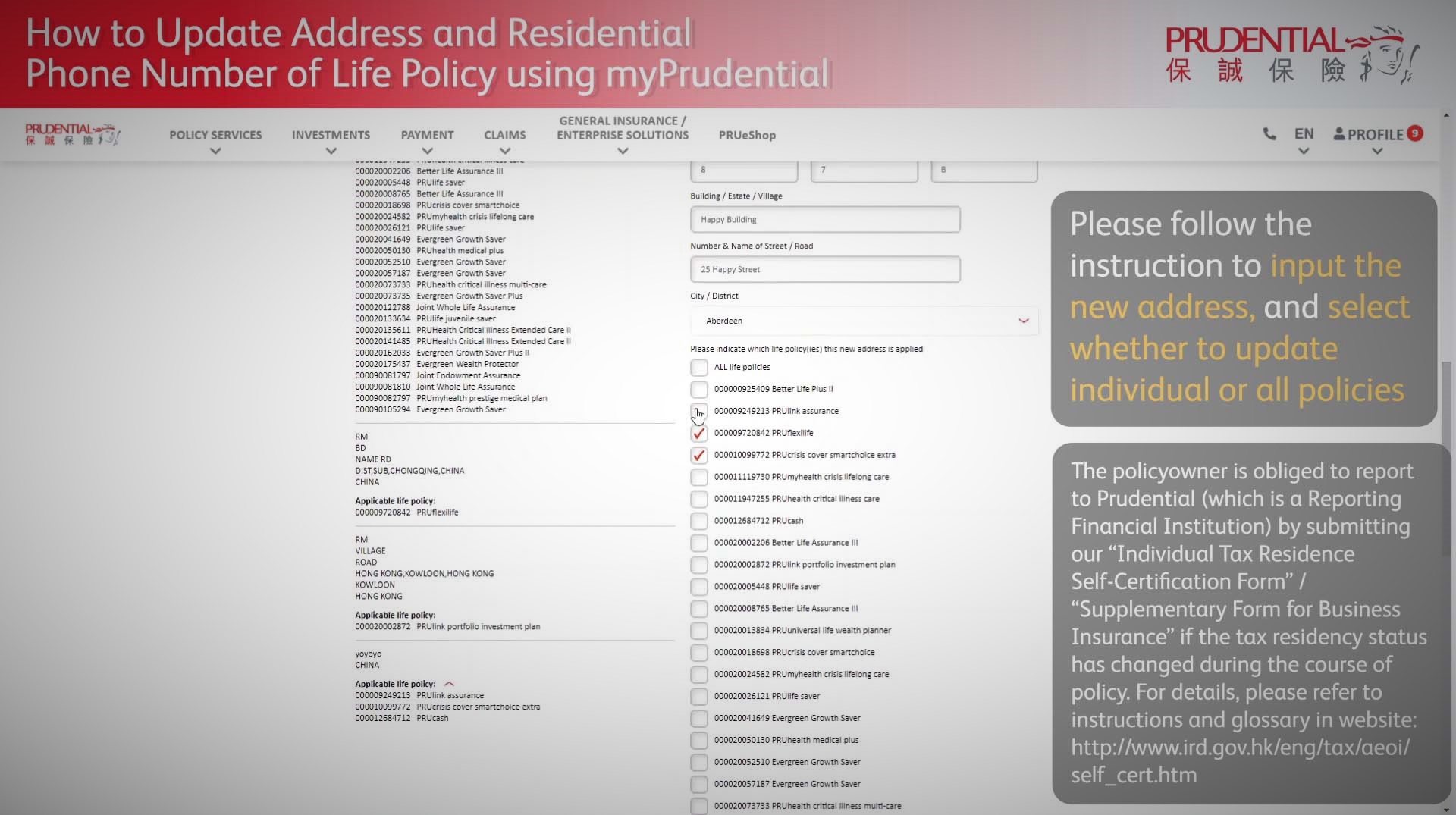 How to update the address and residential phone number for a life policy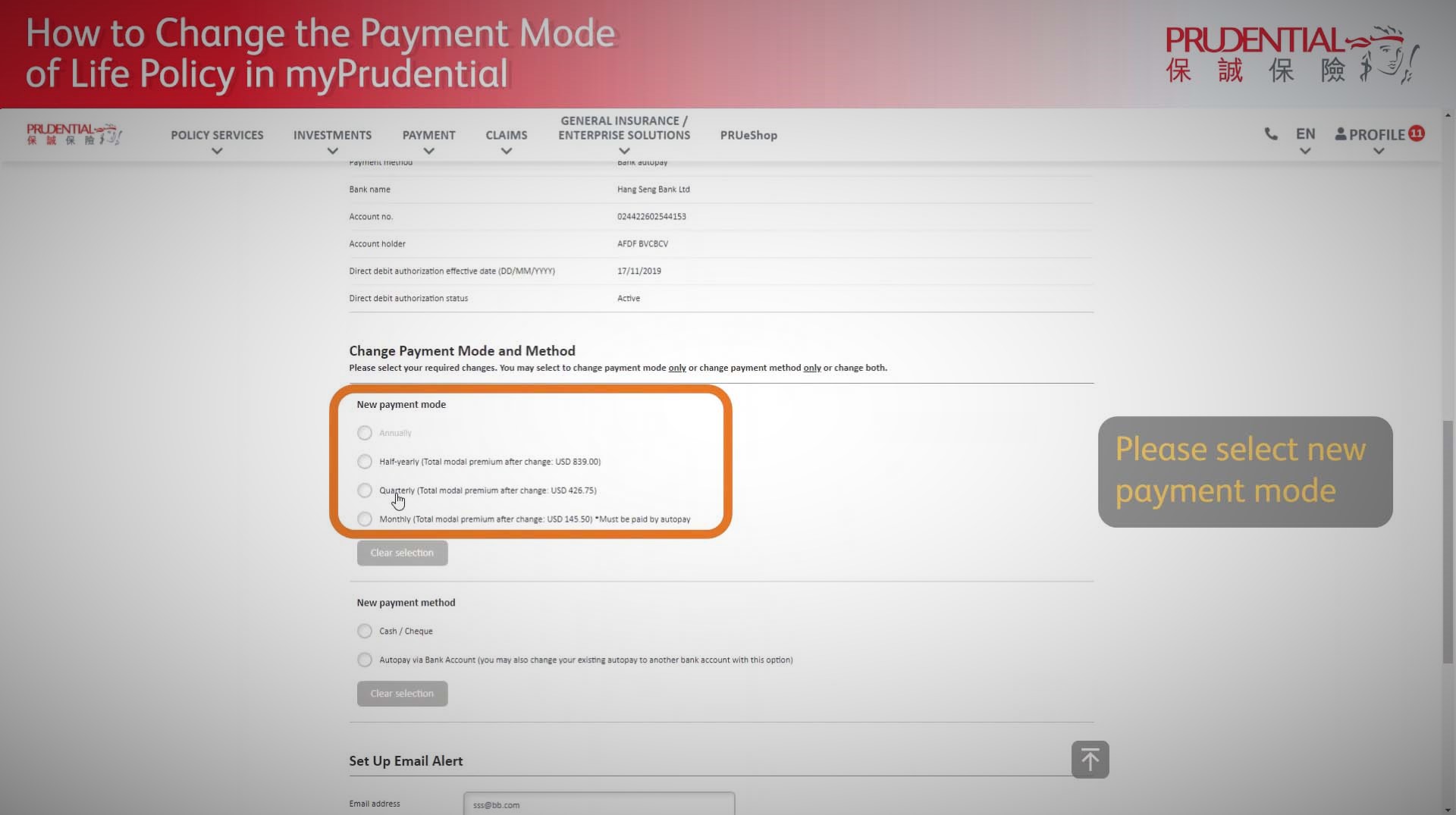 How to change the payment mode for a life policy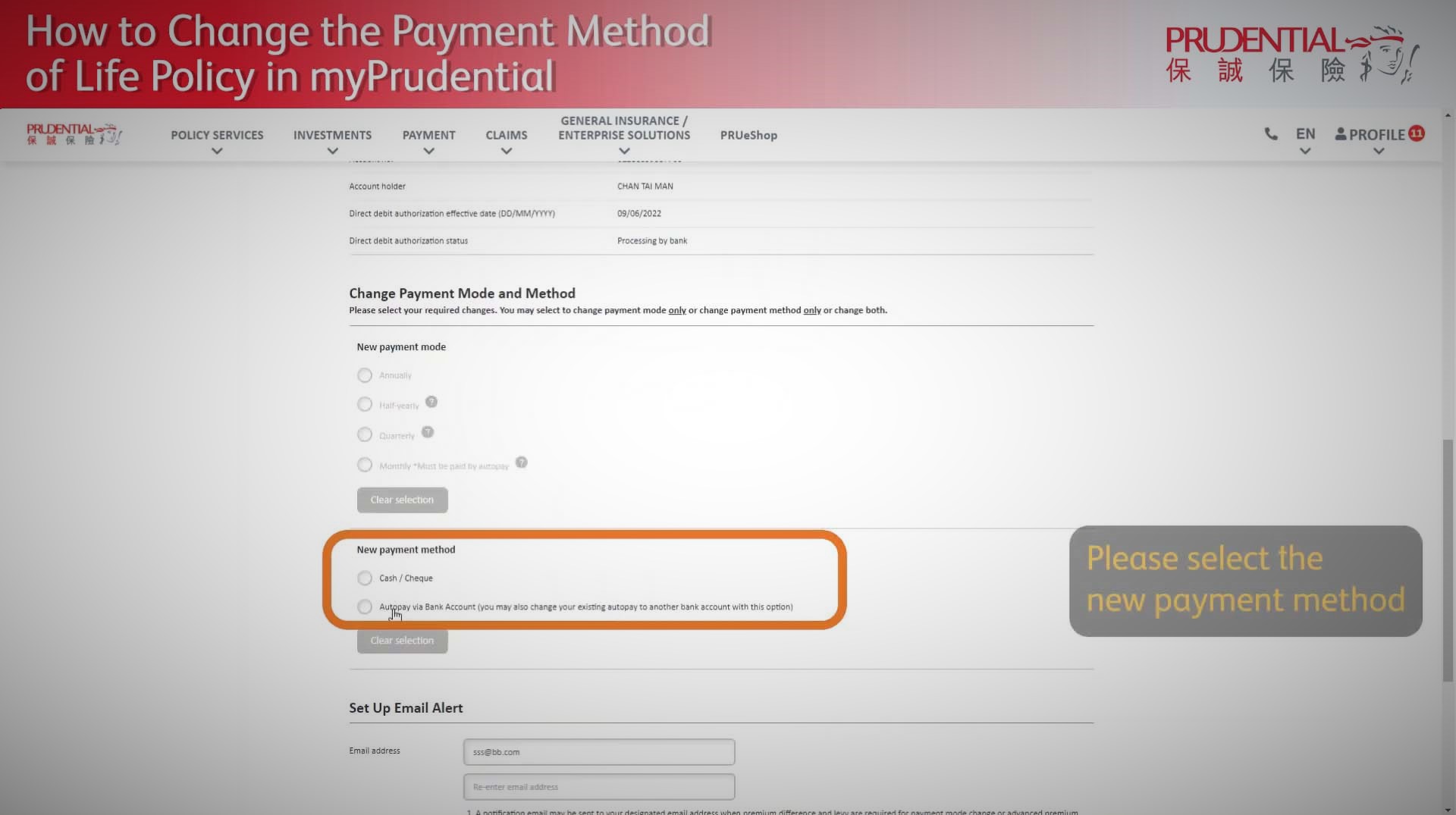 How to change the payment method for a life policy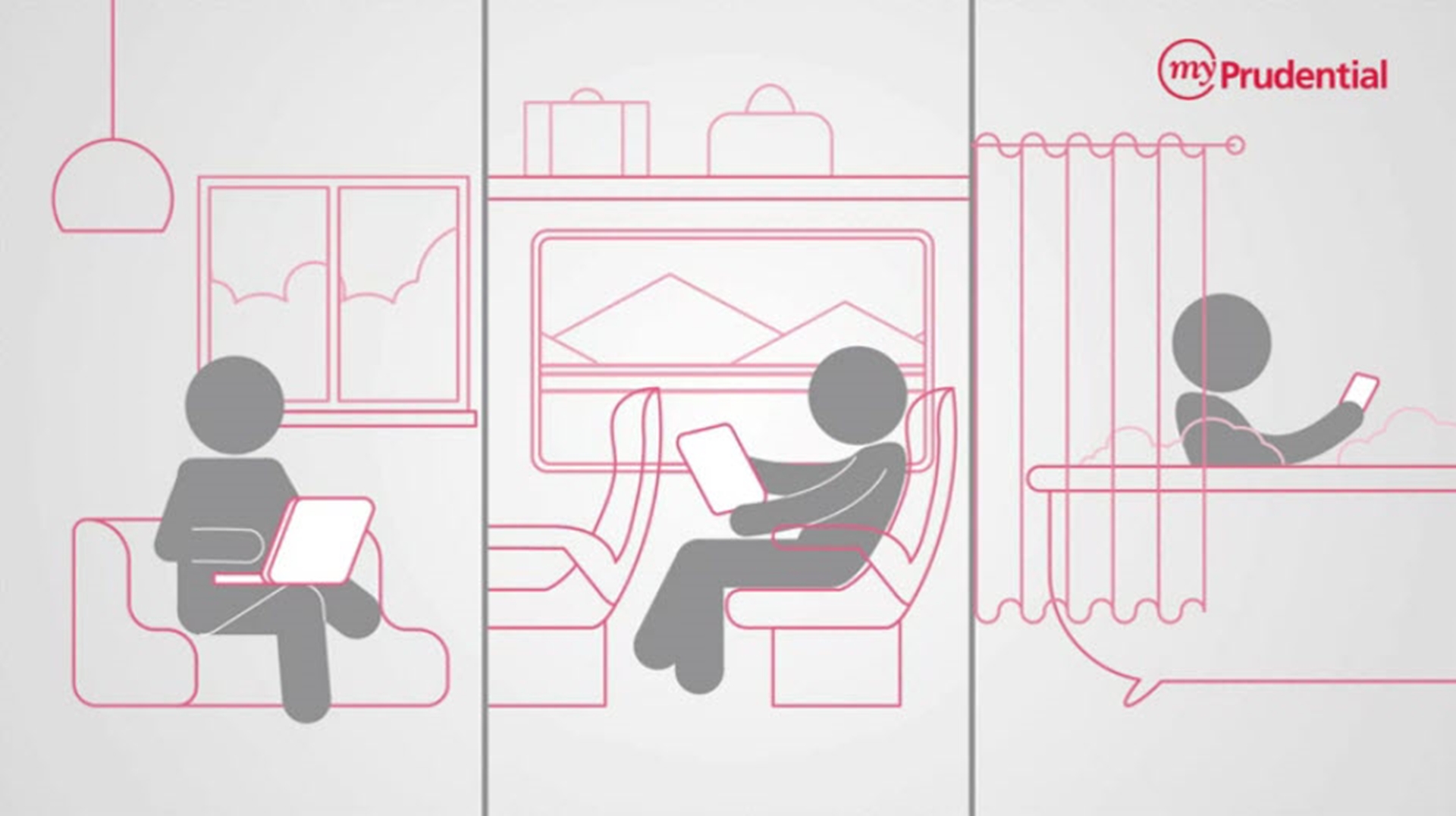 How to submit a claim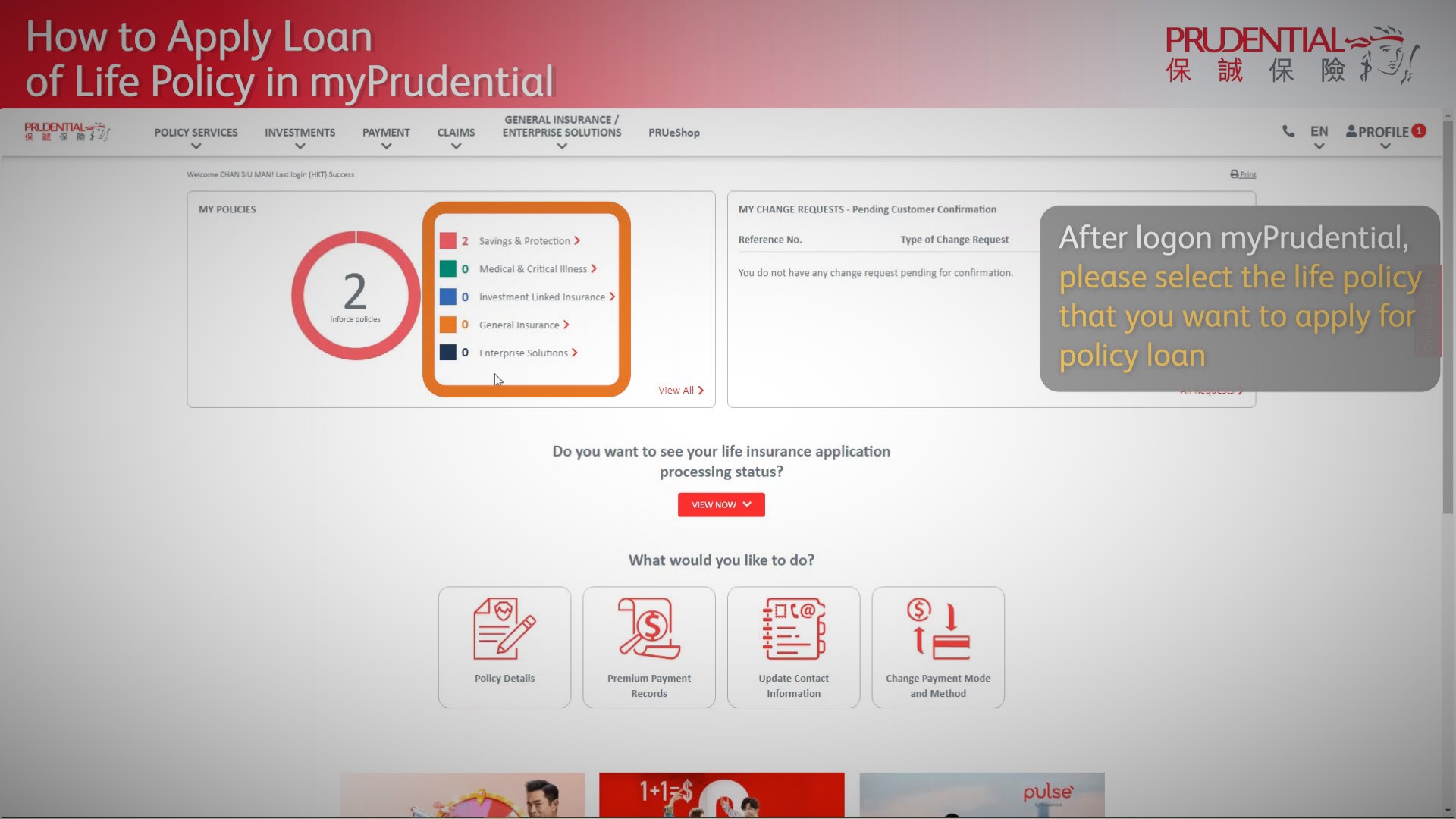 How to apply loan of life policy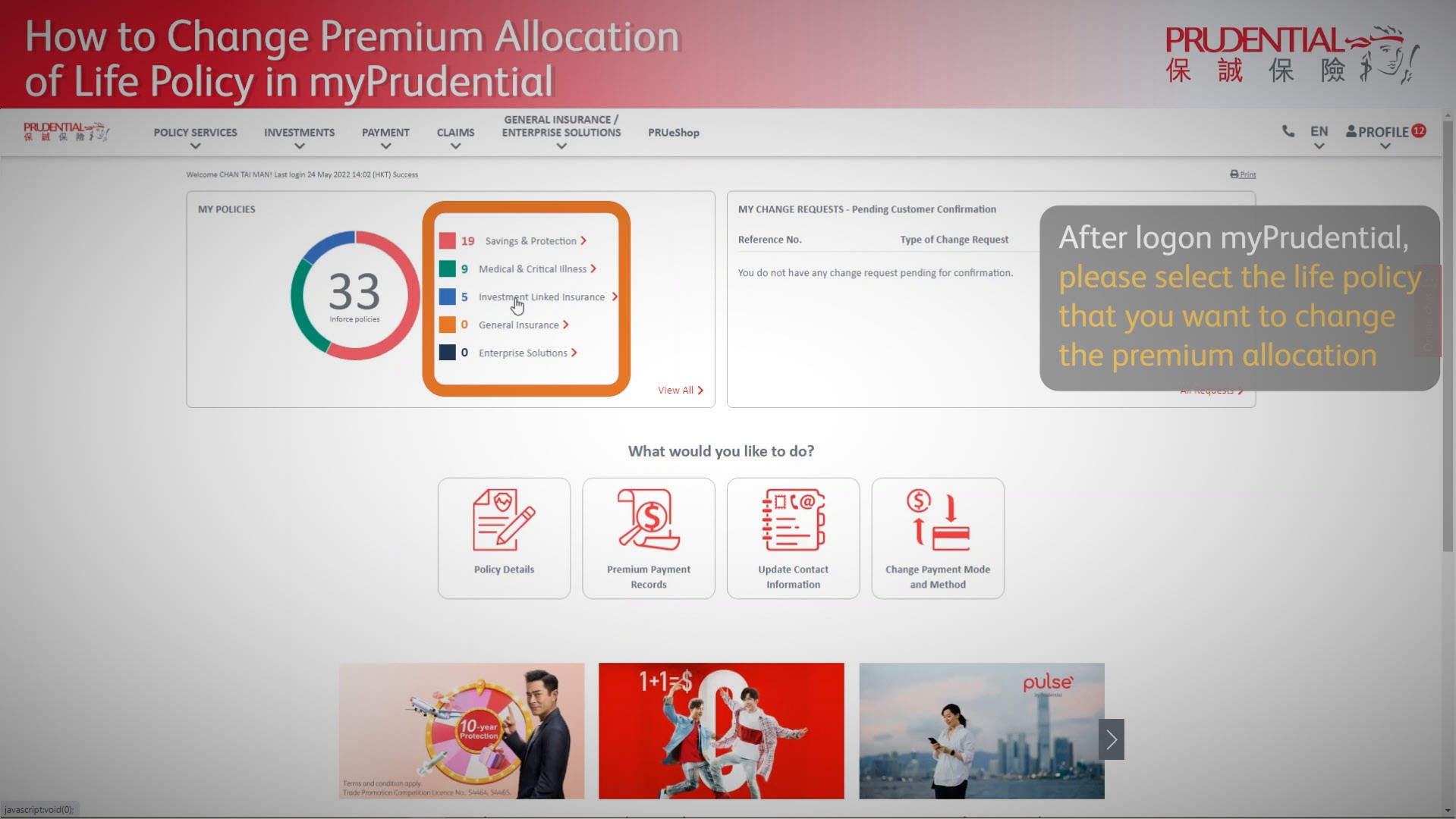 How to change premium allocation of life policy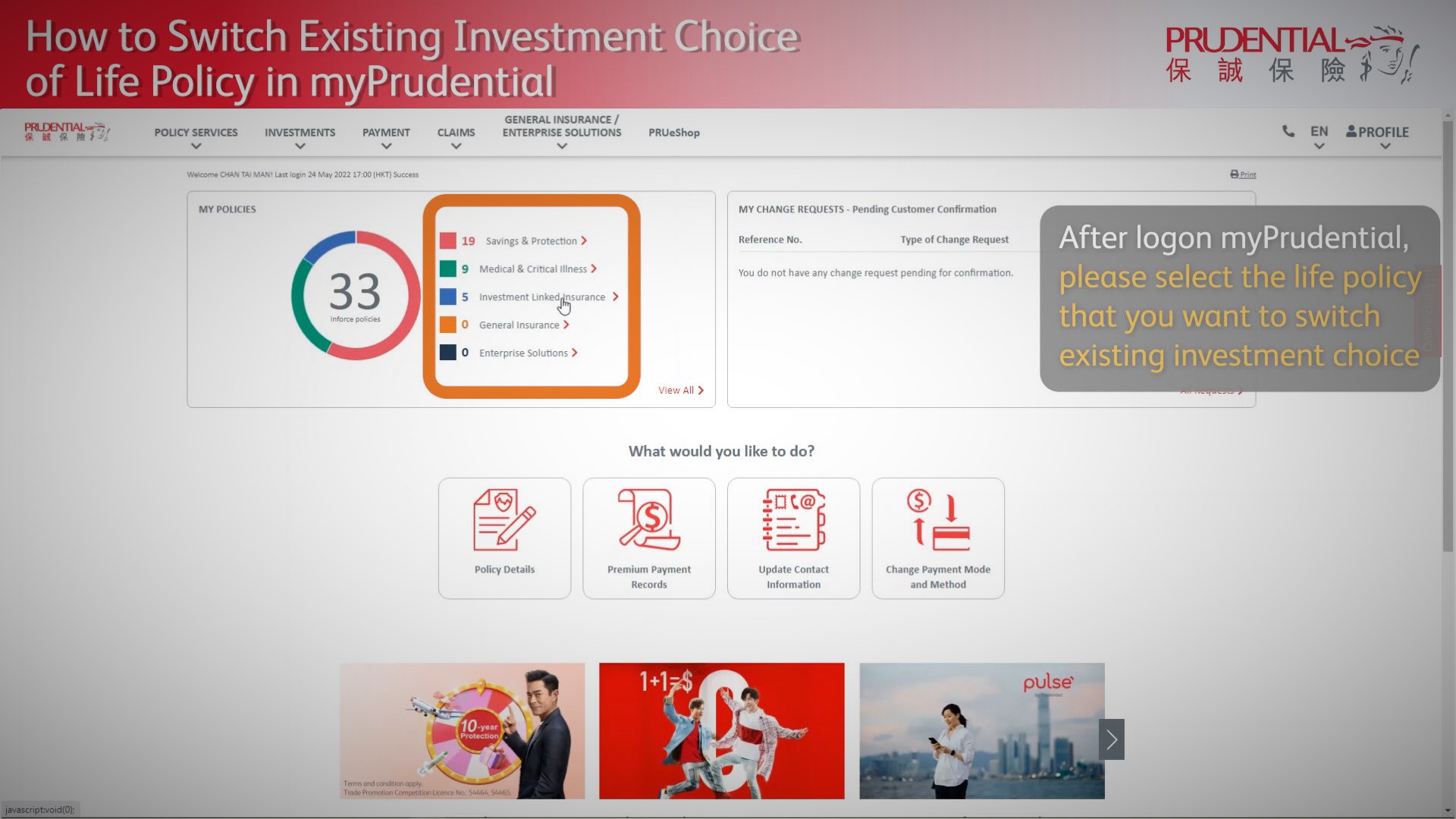 How to switch existing investment choice of life policy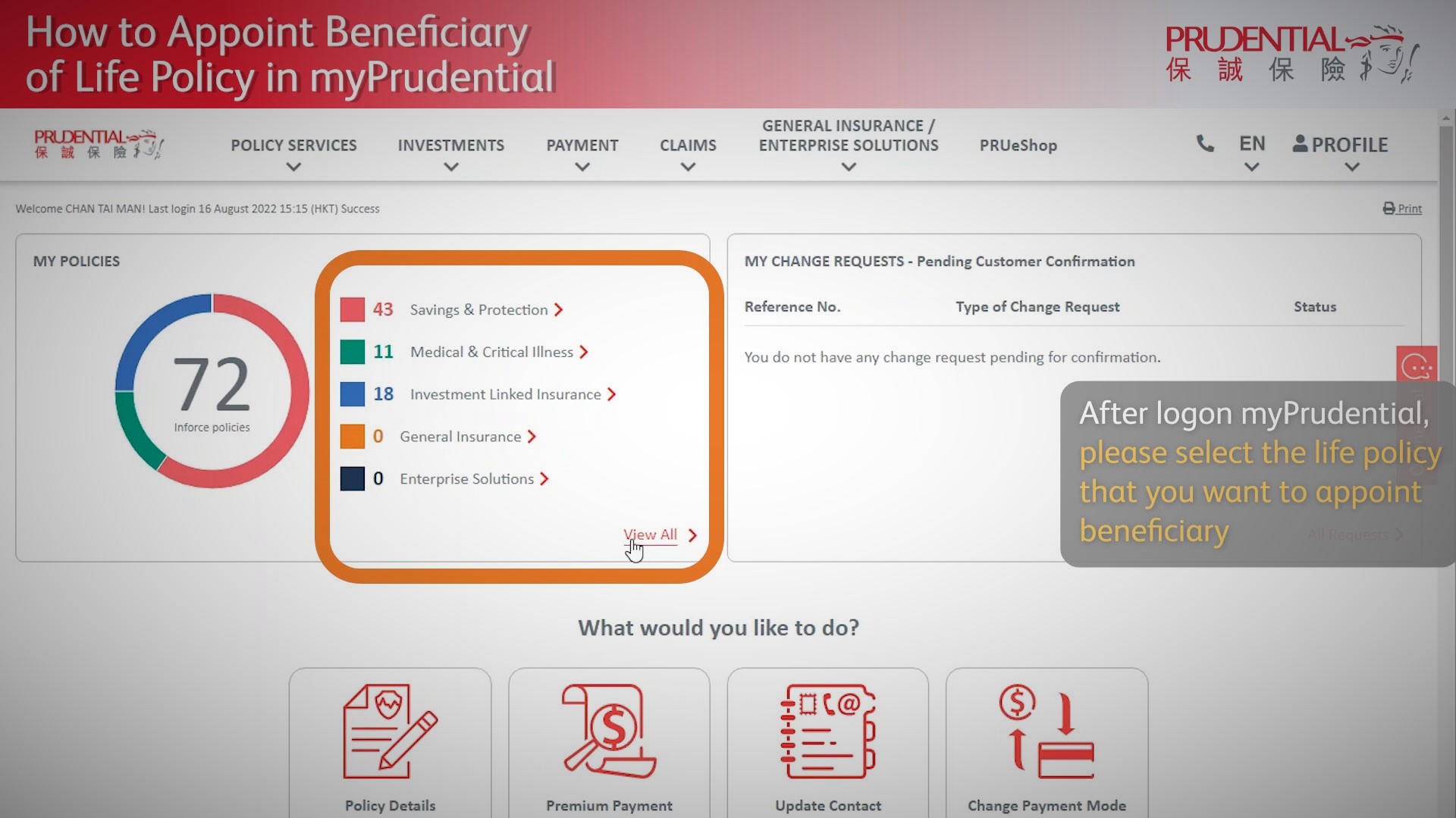 How to appoint beneficiary of life policy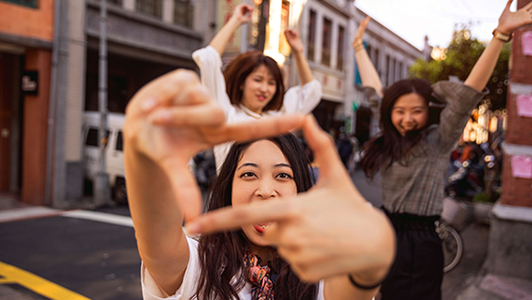 Earn ePoints
and enjoy rewards

Use our online services and earn ePoints, which you can redeem for rewards like eCoupons and more.
Frequently asked questions
I want to know more about eStatements, eAdvices & Letters
What information is in eStatements, eAdvices & Letters?
You can view the following statements and receipts (where applicable) for your life insurance plan:
Anniversary statements

Fund trading advices

Premium notices, premium reminder notices and premium overdue notices

Official receipts

Change request letters
What are the key features of eStatements, eAdvices & Letters?
You can view your life insurance policy statements 24/7 via your myPrudential account. These are the same as paper statements, but in digital format. eStatements can be retained and viewed for up to 3 years from the statement issue date.
Do I have to pay for eStatements, eAdvices & Letters?
No, this service is available to you, completely free of charge.
How do I know when my latest eStatements and eAdvices are available?
You'll receive an email from us ( e+Alert@prudential.com.hk) at your designated email address when a new eStatement or eAdvice is available for viewing on your myPrudential account. You can also change the subject line to remind yourself.
Can I cancel eStatements and eAdvices?
We strongly advise our customers to adopt eStatements and eAdvices. Compared to traditional paper statements and mailing methods, eStatements are more reliable, faster and more convenient and can be viewed online in real time. Should you require paper statements, please contact your financial consultant.
How do I check my transactions and Change Request history online?
Simply log in to myPrudential. You can easily view your policy details and various policy records.
I want to know more about life claims and premium payment for life insurance
How do I register for autopay on my policies?
Bank Account Autopay
Here's how to setup bank account autopay authorization:
Apply on myPrudential, or
Contact your financial consultant, or
Download, complete and submit the direct debit authorization form

The signature on the "Direct Debit Authorization Form" should match your specimen signature in our records. Please send the form to us by mail to set up autopay.
Credit Card Autopay
From 1 May 2020, new autopay authorizations using VISA/ MasterCard credit cards(including change of credit card number for existing autopay authorizations) will not be accepted. For details, please contact your financial consultant.
How do I apply for a policy revival?
Please fill in and submit the Application for Change section in the Policy Form (along with the health questionnaire).

A late fee will be charged if there is a lapse in coverage of more than three months. We require direct debit authorization through a bank account or credit card, in case coverage was cancelled/stopped.

We may require a medical examination to be performed at your expense or other medical evidence. Please contact your financial consultant for details.
The myPru mobile app is available for download on the App Store / Google Play.
If you are unable to access Google Play, you may visit https://www.prudential.com.hk/myPruAPK in a browser to download the app.
Apple, the Apple logo, and iPhone are trademarks of Apple Inc., registered in the U.S. and other countries. App Store is a service mark of Apple Inc., registered in the U.S. and other countries. Google Play and the Google Play logo are trademarks of Google LLC.
What are the minimum browser or operating system requirements for accessing myPrudential and the myPru mobile app?
Browsers:
Chrome 66 or above

Edge

Safari 10.14 or above (MacOS)
Mobile device systems:
iOS 12 or above

Android OS 10 or above
How can I delete my myPrudential account?
Please email your account removal request to our life insurance Customer Service at service@prudential.com.hk by stating your myPrudential username, policyowner name, and contact mobile number in the email for our follow-up.