News Archive
Prudential financial consultants win 10 awards at the 50th Distinguished Salesperson Award
(21 June 2018, Hong Kong) Prudential Hong Kong Limited ("Prudential") is proud to announce the outstanding achievements of its financial consultants, winning a total of 10 awards at the Hong Kong Management Association's 50th Distinguished Salesperson Award (DSA).
This year, a total of ten Prudential financial consultants won awards, with Chow Wai, Sarah Li, Nie Yilan, Tracy Xue, Susie Gu, Anchor Huang, Erica Yu, Coco Yu winning the "Distinguished Salesperson Award"; while Mia Liu and Yaka Chu were honoured with "Outstanding Young Salesperson Award". The awards require financial consultants to demonstrate outstanding sales skills and expert knowledge of the insurance industry.
Mr. Derek Yung, Chief Executive Officer of Prudential Hong Kong said, "Prudential's achievements in the Distinguished Salesperson Awards are testament to the excellence, hard work and integrity of our financial consultants. As part of our company credo: Always listening, always understanding, we will continue to provide the best support for our financial consultants to ensure we remain the Company of Choice for customers, financial consultants, employees and business partners in Hong Kong."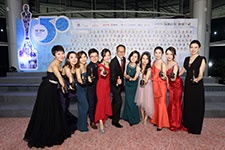 Prudential financial consultants win 10 awards at the 50th Distinguished Salesperson Award, and pose with Mr. Jones Lam, Deputy Chief Agency Officer.