News Archive
Prudential Honoured as the First and Only Private-sector Winner of The Hong Kong Red Cross Special Merit Award
(25 June 2018, Hong Kong) Prudential Hong Kong Limited ("Prudential") is once again honoured as the first and only private-sector company to receive the Special Merit Award presented by the Hong Kong Red Cross at its Annual Donor Award Ceremony.
With long-standing support for Hong Kong's blood donation programme over the last 17 years, this is the second time for the company to win this award since 2016. Between April 2017 and March 2018, nearly 1,700 Prudential staff and financial consultants gave blood through the Prudential Blood Drive, breaking the company's record for three consecutive years. These donations for the 2017/2018 campaign could help over 5,000 patients in need, based on the fact that one blood donation can save up to three lives.
"The Prudential Blood Drive has been woven into the fabric of our corporate social responsibility mission and is one of the clearest embodiments of our spirit of giving. The good cause provides instant support to maintain Hong Kong's blood reserve level," said Derek Yung, Chief Executive Officer of Prudential. "It is Prudential's honour and duty to support the Hong Kong Red Cross through lifesaving blood donations."
Prudential Hong Kong takes pride in its robust CSR culture. Combining its caring nature with its commitment to contributing to the wider society, Prudential has built its CSR programmes around four pillars: youth development, financial literacy, healthy and active lifestyles, and community service.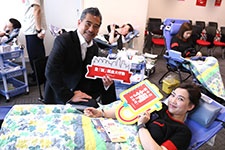 Prudential CEO Derek Yung made a visit to support the staff giving blood.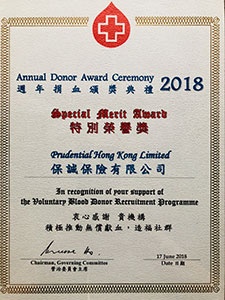 Prudential is the first and only private-sector company to receive Special Merit Award from the Hong Kong Red Cross.