As the saying goes, happiness is in your hands – and it is only natural that you are working hard to make strides forward. With youth, time, and energy on your side, why not go all in and leave all your worries behind?
However, are the plans you have in mind truly enough to protect what matters to your family? By moving forward without losing sight of what you care about, you can ensure that their future will be a blissful one.
Prudential takes a holistic view of your family members' lives to meet your needs from every angle.
We Do Family. We will continue to support families on their long journeys towards a happier, fuller life.
Learn more about our Multiple Critical Illness Product
For reference only and there is no guarantee as to the accuracy of the information. Prudential Hong Kong Limited expressly disclaims any liability resulting from any use or interpretation by others of the information above.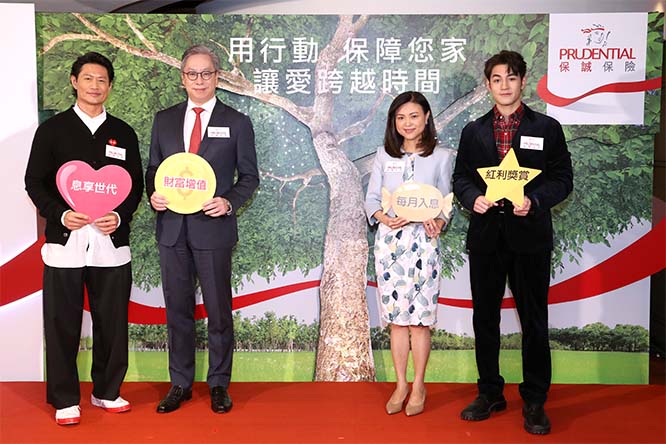 Prudential Longevity Resilience Survey
Will you live longer than expected? 92% of our interviewees do not believe that they will. Are you one of them?
As a forward-thinking brand with access to the latest market research, we have learned that life expectancy is on the rise. However, most Hong Kong people underestimate their life expectancy and have no sufficient retirement plans in place, increasing their longevity risk. With timely preparation, you can secure enough protection for a carefree retirement and more to share with your family and future generations.
Prudential won the 360° Insurer Award at 10Life Happy Kids 2023*

The most comprehensive protection to safeguard your children
Learn

more
Important Information
Please also refer to our brochure on Shareholder-backed Participating Plan for more information (such as investment philosophy and bonus philosophy) on your Shareholder-backed Participating Plan and the operation of the Shareholder-backed Participating Fund.
Any general tax information provided above is for reference only. Please note that the tax law, regulations or interpretations are subject to change and may affect related tax benefits including the eligibility criteria for tax deduction. We do not take any responsibility to inform you about any changes in the laws and regulations or interpretations, and how they may affect you. Further information on tax concessions applicable to VHIS may be found at https://www.vhis.gov.hk/en/.
During the sales process, this document should be read in conjunction with the relevant product brochure. For full terms and conditions, and risk disclosures of the relevant insurance plan, please refer to relevant product brochure and policy document and read carefully.
Notes
PRUHealth Guardian Critical Illness Plan Series, PRUHealth VHIS EasyChoice Plan and Evergreen Wealth Multi-Currency Plan are underwritten by Prudential Hong Kong Limited ("Prudential"). You can always choose to take out this plan as a standalone plan without enrolling with other type(s) of insurance product at the same time, unless such plan is only available as a supplementary benefit which needs to be attached to a basic plan. This brochure does not contain the full terms and conditions of this plan and is for reference only. It does not represent a contract between Prudential and anyone else. You should read carefully the risk disclosures and key exclusions (if any) contained in this brochure. For further details and the full terms and conditions of this plan, please ask Prudential for a sample of the policy document.
Prudential has the right to accept or decline any application based on the information provided by the policyholder and / or life assured in the application.
Please cross your cheque and make it payable to "Prudential Hong Kong Limited".
This document is for distribution in Hong Kong only. It is not an offer to sell or solicitation to buy or provide any insurance product outside Hong Kong. Prudential does not offer or sell any insurance product in any jurisdictions outside Hong Kong where such offering or sale of the insurance product is illegal under the laws of such jurisdictions.

*For the evaluation method of 10Life Happy Kids 2023 360° Insurer award and its products certification, please refer to 10Life's website (www.10life.com/en).